If you're planning a family vacation this summer but not set on where to go or what to do, Jim Lohman of LCMS District and Congregational Services — Youth Ministry has an idea.
"Don't overlook the opportunities for your family to serve together at an LCM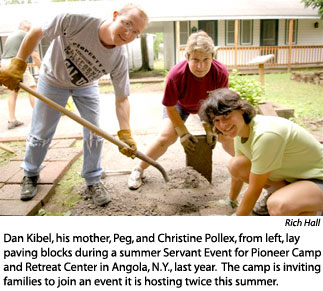 S Servant Event," suggests Lohman, whose responsibilities include these events.
He said that for more than 25 years, thousands of youth and adults have worked together at LCMS Servant Events in a variety of settings with Synod churches, schools, camps, and related social service agencies, in partnership with LCMS Youth Ministry.
"This summer is no different, with more than 80 Servant Events planned across the United States and Mexico," Lohman told Reporter.
In recent years, he said that many experienced Servant Event hosts have added opportunities for families to serve together in such settings.
This summer, for example, Pioneer Camp and Retreat Center in Angola, N.Y. — on Lake Erie about 20 miles south of Buffalo — is offering its 10th "Making a Difference" event two times: June 15-20 and July 5-12.
Linda Gage, Pioneer's executive director, noted that participating families enjoy the Servant Events as they engage in service, Bible study, and recreation.
"We are excited to be celebrating 10 years of making a difference in the name of Jesus," said Gage.
Also, Shoshone Base Camp — at Wallace, in the high country of northeastern Idaho — is hosting its first "Idaho Family Servant Adventures" June 29-July 3. The event offers opportunities to help with construction, human care, and outreach in a multicultural setting.
Clint Kunze, program director for the Shoshone event, says he is "excited to serve with families and … help them build significant life-changing, Christ-centered relationships with each other and those they will serve at the camp and in the nearby community."
For more information on these and other LCMS Servant Events for families and youth this summer, visit www.lcms.org/youth.
Posted April 25, 2008