Missouri Synod congregations are encouraged to highlight the pastoral ministry during the month of May, and the Synod's Board for Pastoral Education — together with the church body's two seminaries in St. Louis and Fort Wayne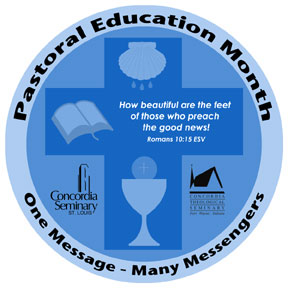 — have produced a number of resources to help.
With about 100 fewer seminarians than three years ago, and a growing number of retirement-age pastors, "now is the time" for the Synod to get serious about recruitment of pastors, according to Rev. Glen Thomas, executive director of the Synod's Board for Pastoral Education.
Thomas urges all Missouri Synod Lutherans — especially current pastors — to "plant the seed" of pastoral service with young men who are expressing interest or who have the gifts to serve in pastoral ministry.
"If someone would just affirm that and say, 'You know, you would make a great pastor,' or 'I could really see you in the pastoral ministry,' that would get them thinking about it in a more positive way," he said.
All LCMS congregations should be receiving in mid-April a poster promoting "Pastoral Education Month" and its resources:
sermon notes.
a Bible study with guides for participants and leaders.
hymn suggestions.
a prayer.
a bulletin insert.
With the theme "One Message: Many Messengers," the resources will be available at www.lcms.org/pastoraleducation in early April for free downloading. A "reminder" postcard will be mailed to congregations in early May.
Both seminaries also have produced promotional materials for special Sunday observances to call attention to pastoral education and seminary support:
Concordia Seminary, St. Louis, is mailing a packet of sample materials to each LCMS congregation this month to call attention to "Concordia Seminary Sunday" on July 13 or an alternate date. The materials, which are not dated and can be used anytime during the year, include a special bulletin insert, a poster, an adult Bible study, a sermon, a seminary DVD, and other worship resources.

For more information or to order, contact the seminary's communications department at (314) 505-7374 or communications@csl.edu.

Concordia Theological Seminary, Fort Wayne, Ind., is mailing in June a packet with a sample bulletin insert, bookmarks, and a poster to every LCMS congregation offering them the opportunity to request materials to promote seminary education, including admission packets, retreat information, student "adoption" information, and a seminary DVD.

The materials may be used anytime during the year.
For more information or to order, call (800) 481-2155 or send an e-mail to publicrelations@ctsfw.edu.
Both seminaries offer free visitation events to prospective students and their spouses or fiancees. For more information, visit the schools' Web sites at www.csl.edu (St. Louis) and www.ctsfw.edu (Fort Wayne).
Posted March 27, 2008