By Roland Lovstad
Theological training with a mission emphasis is the thrust of the Lutheran Hispanic Missionary Institute (LHMI) that began offering classes this year in El Paso, Texas.
Supported by LCMS World Mission and the LCMS Rocky Moun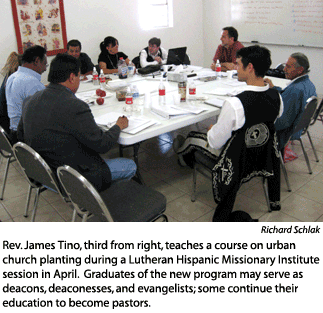 tain District, the institute seeks to "fast track" the training of Spanish-speaking church leaders who can plant missions in the United States and beyond.
"God is bringing unprecedented numbers of Spanish-speaking people to this country," said Rev. Richard Schlak, director of the institute. "This is God's call to get busy and do His work. Our goal here is to multiply Spanish-language Gospel ministries by training leaders who are capable of starting new ministries, as well as plugging into existing ministries."
LHMI offers students a "Diploma of Basic Theology." The curriculum includes 15 courses taught in Spanish. The courses can be completed in a year of full-time study at the institute or over a longer period on a part-time basis. In addition to the coursework, the curriculum requires a one-year internship or vicarage under the supervision of a bilingual adviser.
The diploma satisfies study requirements for being commissioned as a deacon or deaconess in the Rocky Mountain District and, according to Schlak, in other LCMS districts as well. LHMI is coordinating closely with the Center for Hispanic Studies at Concordia Seminary, St. Louis, so some students may continue their training toward certification for pastoral ministry in the Synod.
LCMS World Mission is funding Schlak's salary. The Rocky Mountain District helped with startup expenses and now provides a yearly subsidy. The institute, which rents facilities from Ysleta Lutheran Mission in El Paso, charges minimal tuition. It also relies on gifts from individuals, churches, and organizations.
LHMI opened in January and currently has 15 part-time students, both men and women. They come from the El Paso area, including Juárez, Mexico, and from Las Cruces, N.M. All are currently engaged in Spanish-language ministries and are required to help plan future missions.
Schlak said the institute hopes to attract full-time resident students. "As we develop, we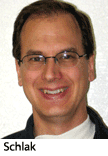 aim to focus on full-time students in training to start new ministries," he said. "One advantage of residential education is the face-to-face interaction between people who study and work together all week. It is difficult to build that rapport in a class taken by distance education."
He also pointed to the institute's mission emphasis: "LHMI stresses church planting and evangelism. We not only offer specific mission courses, but we weave the mission mindset into every course we teach."
The one-year internship or vicarage allows a student to develop skills as an evangelist, deacon, deaconess, or future pastor under a bilingual supervisor. Schlak envisions two kinds of internships: One may be the traditional, individual experience in a parish or mission. Another may involve groups or teams who serve under a church leader in a specific area. Once the teams finish their internships, they may continue as a team to start new ministries in the same area or at another location.
Providing outreach and ministry in Spanish is crucial to reaching people during this time of massive immigration, Schlak believes. He likens the situation to Lutheran mission during the wave of Scandinavian and German immigration a century ago. "Eventually, those immigrants learned English and assimilated," he said. "But right then, they had a need and we met that need by preaching and teaching in their languages."
Eventually, Spanish-speaking immigrants will assimilate as well, he said, but the time to witness to Jesus Christ is when they are receptive to new things. "We have an opportunity to minister to them, to preach the Gospel. We need to be working while the door is open," he added.
Schlak said the vision for LHMI includes preparing missionaries for service beyond the United States. The concept grew out of discussion between the three districts — Texas, Rocky Mountain, and Pacific Southwest — that border Mexico. The districts wanted to assist Lutherans in Mexico, as well as reach Spanish-speaking immigrants in the United States.
He added that other LCMS districts have expressed interest in LHMI as a means of preparing workers who can initiate Spanish-speaking outreach ministries in their areas.
Schlak, who served 17 years as an LCMS missionary in Mexico and Venezuela, was installed as LHMI director last September. He teaches the majority of the courses, with seminary professors, missionaries, and Hispanic pastors serving as guest instructors.
For more information about LHMI, visit the Web site www.missionaryinstitute.org, send an e-mail to info@missionaryinstitute.org, or call (915) 238-3278.
Posted May 22, 2008