Rev. David A. Johnson of St. Louis has accepted the call to serve as executive director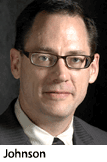 of the LCMS Commission on Worship, effective June 2.
In that position, Johnson succeeds Dr. Paul Grime, who began serving last fall as associate professor, Pastoral Ministry and Missions, and dean of the chapel at Concordia Theological Seminary, Fort Wayne.
During his 11 years as executive director of the Commission on Worship, Grime served as project director for the development of Hymnal Supplement 98, and then for Lutheran Service Book, the Synod's new hymnal, and all of its companion volumes, which were published in 2006 and 2007.
Since 1994, Johnson, 47, has served as director of music/worship resources at Concordia Publishing House, where he authored numerous books and published resources on music for the church. He also served as producer of two, four-CD audio sets: "Martin Luther: Hymns, Ballads, Chant, Truth" and "Heirs of the Reformation."
"The Commission on Worship is now vested with the responsibility to explore the vast song repertoire, ritual, and ethnic music that seasons the worship life of many congregations within our Synod and beyond," Johnson said. "It is a worthwhile venture to consider and endorse the achievements of faith-filled song writers and musicians who confess Christ as Lord and Savior through the gift of song."
From 1992 to 1994, he served as pastor of Immanuel Lutheran Church and School, Manchester, N.H., and prior to that served as assistant pastor at Immanuel Lutheran Church, Danbury, Conn.
A 1989 graduate of Concordia Seminary, St. Louis, Johnson received his master's degree in church music from Valparaiso University, Valparaiso, Ind., and his undergraduate degree in organ performances from the University of Colorado, Boulder.
"Having personally experienced Rev. Johnson's excitement for and gifts in the area of worship on previous occasions, commission members gave him unanimous support in the election process earlier this year," said Dr. Gregory J. Wismar, chairman of the Commission. "He will certainly be a blessing to us and to the Synod."
Posted May 22, 2008