Dr. Neil Sandfort of St. Charles, Mo., is the 2008 recipient of the Lutheran Education Association's (LEA) Christus Magister (Christ the Master Teacher) Award, the most prestigious of eight recognition awards LEA announced Jan. 31 and Feb. 1.

Sandfort is the 50th person to receive the Christus Magister Award, given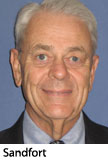 by LEA since 1965 to "Lutheran educators who have made significant contributions to Lutheran education," according to an LEA news release.

Although he retired in 2004 after serving since 1983 as administrative assistant to the president of the LCMS Nebraska District, Sandfort continues as a student teaching supervisor for Concordia University Nebraska, and as a consultant for LCMS School Ministry with its Strengthening Schools and Congregations program and author of weekly devotions for its Lutheran School Portal.

Before joining the Nebraska District staff, Sandfort was a principal and teacher at Lutheran schools in Missouri. He also has written curricular material and other ministry resources, including two LEA Monographs.

"My greatest joy … continues to be equipping God's saints for ministry," Sandfort said. "As a classroom teacher, I sought to introduce each child to Jesus Christ as Savior and Lord, to assist them [to] develop as disciples, and … to help each discover and develop his or her God-given talents and use them to serve God and others."

A 1961 graduate of Concordia Teachers College (now Concordia University Chicago), River Forest, Ill. — where LEA is based — Sandfort earned a master of arts in education in 1972 from the University of Missouri, St. Louis, and received an honorary doctorate in 2000 from Concordia University Nebraska, in Seward.

Other 2008 LEA awards and those chosen to receive them are:
Master Director of Christian Education (DCE) — Dari Hartmann, director of Children and Family Ministry at St. Paul Lutheran Church and School, Mount Prospect, Ill.
Distinguished Lutheran Early Childhood Administrator — Esther Jow, director of the Early Childhood Development Center at St. Paul Lutheran Church and School, Orange, Calif.
Distinguished Lutheran Elementary Administrator — Janet Leet, principal at the elementary school campus of Christ Community Lutheran School, Webster Groves, Mo.
Distinguished Lutheran Early Childhood Teacher — Carol Koenig, first-grade teacher at Messiah Lutheran School, St. Charles, Mo.
Distinguished Lutheran Elementary Teacher — James Van Dellen, eighth-grade teacher and vice principal at Our Redeemer Lutheran School, Wauwatosa, Wis.
Distinguished Lutheran Secondary Educator — Shelly A. Davis, guidance counselor at Salt Lake Lutheran High School, Salt Lake City, Utah.
Outstanding New Director of Christian Education — Alaina Kleinbeck, DCE at Immanuel Lutheran Church, St. Charles, Mo.
Nominations for the Christus Magister Award may come from anyone among LEA's some 4,000 members, with the final choice of the award winner made by the LEA Board of Directors and staff. Those in the organization's professional groups nominate and choose their respective award winners.

The eight named to receive the 2008 awards will be recognized at the LEA triennial national convocation April 24-26 in Minneapolis, along with all others who have received LEA awards over the past three years.
Posted Feb. 20, 2008