Lutheran Church–Missouri Synod pastors, congregations, and related agencies are reaching out to comfort their neighbors after a gunman killed five people, wounded two, and was himself shot dead by police Feb. 7 at Kirkwood City Hall. T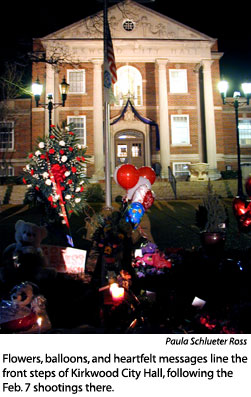 he Synod's International Center headquarters is located about a mile from where the shootings took place.
As this story was being posted, several LCMS pastors were making plans to visit Kirkwood Police headquarters Feb. 19 to distribute copies of God's Word for Peace Officers, a Bible with an introduction written especially for police officers.

Leading the delegation will be LCMS Chaplain Steve Lee, director of Peace Officer Ministries, an organization that ministers to law-enforcement officers and their families. Lee said the group will hand out 60 of the special-edition Bibles and will be available to listen to — and pray with — officers and staff there. Two Kirkwood police officers were killed during the city hall shootings.

Joining Lee will be Rev. Scott Seidler, pastor of Concordia Lutheran Church in Kirkwood, and Rev. Jeffrey Kunze, pastor of Immanuel Lutheran Church in St. Charles, Mo., and a volunteer chaplain to the St. Charles City Police Department. Kunze led funeral services for Sgt. Rick Weinhold, a St. Louis officer who was shot and killed Oct. 31, 2000. Weinhold's widow, Julie, also will join the group at Kirkwood police headquarters.
Seidler and some 125 members of Concordia, Kirkwood, marched several blocks from their church to the city hall for a Feb. 8 candlelight vigil, joining about 100 more Concordia members and several thousand area residents who gathered to share their grief and pray for healing.

Concordia members also distributed hundreds of candles and Portals of Prayer devotional booklets — a special edition produced for "times of crisis" — provided by St. Louis-based Concordia Publishing House.
More than a dozen counselors and staff members from Lutheran Family and Children's Services (LFCS) of Missouri, St. Louis, also attended the candlelight vigil to show their support to area residents.

The agency is offering up to four free sessions to anyone who wants to meet with a counselor to talk about the shootings, according to Paulette Foerster, LFCS vice president of programs. Several people already have made appointments, she said.

Foerster added that LFCS also is working with four other St. Louis-area mental-health organizations as the Family Mental Health Collaborative to provide care to caregivers, such as pastors and other parish workers, in the wake of the city hall shootings.

For more information, or to set up a free counseling appointment, contact LFCS intake worker Jean Mockobey at (314) 754-2736 (jeanm@lfcs.org) or LFCS at (314) 787-5700 (mention that you're calling about the Kirkwood shootings). Telephone counseling also is available.
Posted Feb. 15, 2008