Faculty, staff, students, and friends of Concordia Seminary, St. Louis, will fasten their helmets and put on their bike shorts Saturday, May 3, for the fourth annual Tour de Sem cycling event. Partici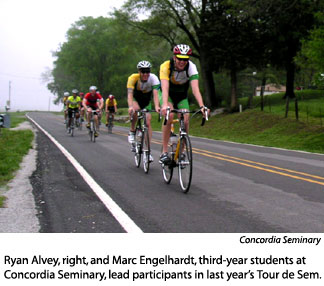 pants will bicycle 95 miles from St. Paul Lutheran Church, Columbia, Ill., to the original site of Concordia Seminary at Trinity Lutheran Church, Altenberg, Mo.
Dr. Jeffrey Kloha, associate professor of exegetical theology and an avid cyclist, organizes the ride, along with students.
Since we've started the Tour de Sem, the response among students, staff, and faculty has been great. Many have taken up cycling as a regular form of exercise, and I'll often see guys riding together in Forest Park," Kloha said. "You get to know each other pretty well when you ride together for three or four hours. It's been great to see the students grow, not only as servants of the Gospel, but also as individuals and athletes."
Last year, more than 25 riders participated in the Tour de Sem, including seminary President Dale Meyer and Dr. Robert Weise, professor of practical theology.
This spring, seminary students formed an official collegiate cycling team. Marc Engelhardt, a third-year student, finished fourth in his first-ever competition, missing third place by a wheel, in a race hosted by the Midwest Collegiate Cycling Conference in St. Charles, Mo.
Registration for the Tour de Sem is $25 each for seminary students and spouses, $30 for others, and includes a T-shirt, a post-ride meal, and trophies for top finishers. Deadline for registration is April 26.
For more information or to register, contact Kloha at (314) 505-7566 or klohaj@csl.edu, or visit the cycling page on the seminary's Web site at www.csl.edu.
Posted April 9, 2008