Wheat Ridge Ministries is holding a second "Living Well" symposium Oct. 2-4 in Milwaukee, on the heels of a 2005 symposium which organizers termed a success.

Registration for the upcoming symposium, with the sub-theme "The Bod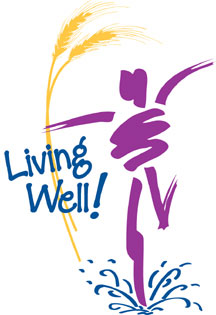 y Language of Faith," is open online, or via fax or mail. For complete information, visit the symposium Web site at www.symposium.wheatridge.org, or see a symposium booklet that Wheat Ridge mailed earlier this winter to about 8,000 donors, congregations, and others on its mailing list. To request a copy of that booklet, call (800) 762-6748.

Dr. Richard Herman, Wheat Ridge president, said the organization "received such positive feedback" from those who attended the 2005 symposium, which he described as "a wonderful celebration of the abundance of health and healing ministries being carried out in Christ's name."

The 2005 symposium, held in conjunction with Wheat Ridge's centennial, drew more than 400 participants.

Herman said that the goal of the 2008 symposium is "to continue the celebration and once again provide a meaningful experience, filled with opportunities for fun, fellowship, and learning designed to inspire and equip people to live well in the Lord in service to others."

Symposium planners indicate that it will be geared for "people of faith from a variety of backgrounds and perspectives," including:
pastors, teachers, "associates in ministry," parish nurses, and human care staff members of congregations.
church body and agency leaders from judicatories, health and human care agencies, and social service agencies.
leaders of business, medicine, and government agencies.
lay leaders "with a passion for human care outreach and whole-person health."
Scheduled keynote speakers are:
Dr. John Nunes, president of Lutheran World Relief, Baltimore.
Dr. Joye Carter, chief forensic pathologist with the Marion County Coroner's Office, Indianapolis.
Sandy Dukat, a medal-winner with the United States Paralympic Ski Team, of Vail, Colo.
Dr. Gary Gunderson, senior vice president for Health and Welfare Ministries, Methodist LeBonheur Healthcare, Memphis, Tenn., and director of the Interfaith Health Program of the Rollins School of Public Health at Emory University, Atlanta.
The symposium also will feature four "breakout" sessions on an array of topics.

Registration per person for the symposium, including a number of meals and receptions, is $325 ($300 per person for three or more registrants from the same organization) before July 1; $355 ($330 group rate), July 1-Sept. 1; and $385 ($360) after Sept. 1.

All Thrivent benefit members will receive a $50 scholarship toward their full-registration fee for the convocation. Participants also may register for individual days and meals. Full payment must be included with registration forms.

A room rate of $119 per night is available from the Hyatt Regency Milwaukee — site of the symposium — for hotel reservations made by Sept. 8.

Major funding for the symposium is from "lead sponsors" Thrivent Financial for Lutherans, Appleton, Wis., and the Clara and Spencer Werner Foundation, Inc., Paris, Ill. Other sponsors are Siebert Lutheran Foundation, Brookfield, Wis.; Bethesda Lutheran Homes and Service, Watertown, Wis.; Lutheran Life Communities, Arlington Heights, Ill.; Lutheran Volunteer Corps, Washington, D.C.; and Lutheran World Relief, Baltimore.

Wheat Ridge Ministries, based in Itasca, Ill., describes itself as "recognized throughout the world as an independent Lutheran charitable organization that seeds new ministries of health and hope."
Updated March 20, 2008