Forty-six new missionaries were commissioned by LCMS World Mission June 26 in St. Paul, Minn., for service in 17 countries, including the Czech Republic, Japa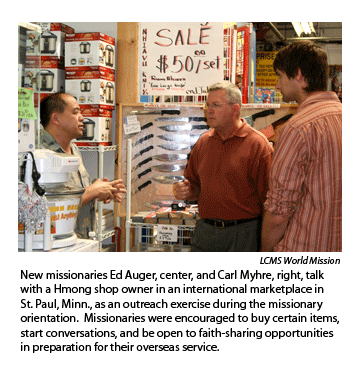 n, Hungary, India, Latvia, Panama, Peru, Poland, Slovak Republic, Thailand, Togo, and Uganda.
The total includes 16 career missionaries (eight are called to fill positions; their spouses also receive calls to serve), two vicars and their spouses, and 26 "long-term," or volunteer, missionaries, who raise their own funding and serve for six months or longer.
All of the new missionaries took part in a two-week orientation this month at the Oswald Hoffmann School of Christian Outreach, located on the campus of Concordia University, St. Paul. The orientation offered training in teaching English-as-a-foreign-language and other tasks, as well as workshops on topics such as finances; working with international partners; cross-cultural ministry; prayer life; and emotional, psychological, and spiritual well-being.
For the first time, LCMS World Mission is sending missionaries to Uganda and Peru. In Uganda, Rev. Jacob and Michelle Gillard and Vicar Shauen and Krista Trump will work with the 13-year-old Lutheran Church Mission Uganda to train ministry leaders.
As the first long-term missionary to Peru, Anthony DiLiberto will coordinate short-term mission teams from the United States and organize relief work in towns damaged by an August 2007 earthquake.
In addition to the new missionaries, who will begin their overseas service by fall, five "international educators" to South Korea and Indonesia and two U.S.-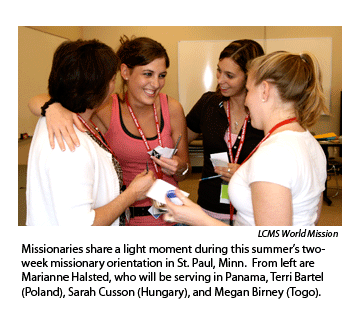 based missionaries began their service earlier this year.
New stateside missionaries are:
Rev. Richard Schlak, who serves as director of the Lutheran Hispanic Missionary Institute in El Paso, Texas, training Spanish-speaking church planters, and
Dr. Johnson Rethinasamy, who serves as urban mission strategist, identifying new mission opportunities and mission leaders among South Asian immigrants in New York City.
Another 32 long-term missionaries currently serving abroad — most as English teachers — have agreed to extend their service for another year.
David and Radka Fiala are beginning work as career missionaries in Central Europe this year after serving three years as long-term, or volunteer, missionaries teaching English in Slovakia.
In October they will begin working with indigenous church leaders, as well as U.S. volunteers, including short-term teams who want to help lead language, music, and sports camps in Poland next summer.
They encourage anyone with a heart for missions to consider overseas missionary service.
"We need you! People out there need you!," says Radka.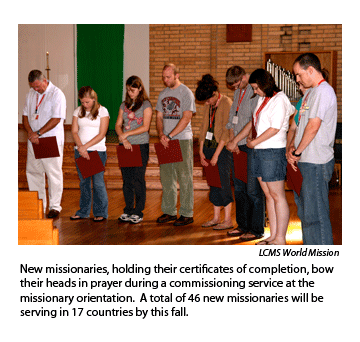 "If you are ever wondering if you can be a missionary or if you have the right gifts to be one, please remind yourself that it is more about what God does than what we do," she said. "Realizing that God works through us is far more comforting than thinking that we have to climb mountains and swim through deep seas alone."
If you're interested, the couple said via e-mail, "contact missionaries all over the world and ask them a few questions. Go see missionary presentations, meet missionaries, take short-term mission trips (if possible), ponder, and pray.
"We pray — daily — that God would call more and more people to do this marvelous ministry."
For more information about missionary service, or to see what opportunities are currently available, visit the LCMS World Mission Web site www.lcmsworldmission.org/service or contact a placement counselor at (800) 433-3954 or mission.recruitment@lcms.org. To read a related story, click here.
Posted July 10, 2008