In mid-August, Synod congregations will receive by mail registration material for the 2010 National LCMS Youth Gathering, including step-by-step directions for the online-only registration process that starts Sept. 14, along with oth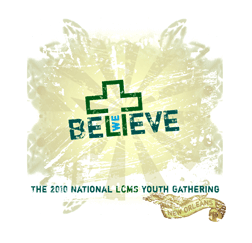 er Gathering-related information.
The mailing includes a pre-Gathering DVD. On the DVD, congregations will find videos that promote the July 17-21 Gathering in New Orleans and a downloadable booklet that details the registration process and contains other information. The booklet also is available on the Gathering Web site.
Gathering registration will be online only — at the Gathering Web site, www.lcmsgathering.com. Groups also will prioritize online their choices of hotels in New Orleans for housing at the Gathering.
LCMS District and Congregational Services — Youth Ministry, the sponsor of National LCMS Youth Gatherings, is making the switch to paperless registration "in an effort to be responsible environmental and financial stewards," said Rev. Mark Kiessling, the Gathering program director.
"We hope congregations find the information [in this mailing] helpful in preparing for the … Gathering," Kiessling said. "Beyond the registration materials, the Gathering Web site will provide youth and adults opportunities to grow in their faith through Bible study and study of the Gathering's ['We Believe'] theme and sub-themes. Those materials will continue to roll out between registration and July 2010."
Although there is no paper registration for the 2010 Gathering, each group that has registered online will be required to complete its registration by mailing in a paper "Pastoral Affirmation Form" and a "Registration Account Form" — along with either full registration payment of $275 per person or a deposit payment of $100 per person registered. No personal checks or cash will be accepted.
Envelopes with those forms and payments must be postmarked no earlier than Oct. 21, or they will be returned to senders.
The registration fee provides for the cost of such items as the Gathering Bible, backpack, and post-Gathering DVD that each registered participant receives, as well as all Gathering program and DCS Youth Ministry administrative expenses.
A "priority window" for Gathering registration will be open Oct. 21-Nov. 4, 2009. As explained in the downloadable booklet with this month's mailing, groups completing the registration process after registration is filled to capacity will be accepted for the Gathering on a space-available basis. After March 1, participants will continue to be admitted on that basis for a late-registration fee of $325 per person.
Congregations that do not receive their mailed Gathering registration information by Sept. 4 should call LCMS Youth Ministry at 800-248-1930, ext. 1155, or send an e-mail to nygregistration@lcms.org.
Re-posted Sept. 8, 2009