By Katie Kuekes

Although A.J. Davis will be the first Synod missionary to serve in Presov, Slovakia, he doesn't view that assignment to unfamiliar territory and people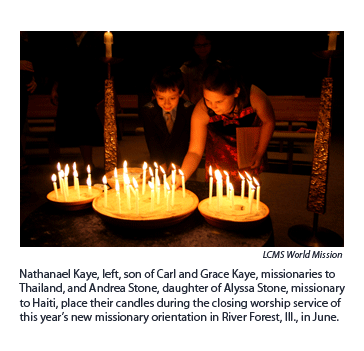 as intimidating, but rather as a continuation of mission history that goes back to the early church.

A member of Crown of Life Lutheran Church in Colleyville, Texas, Davis was one 28 new LCMS missionaries at Concordia University Chicago (CUC), in River Forest, Ill., May 31-June 10 for an annual training and orientation session led by LCMS World Mission staff. In Slovakia, Davis will teach English-as-a-Foreign-Language (EFL).

Davis described all the new missionaries at LCMS World Mission's 2009 missionary orientation and training as "like-minded, … a good bunch of people who are willing to go into different cultures. … We're disciples. It's a humbling experience to know that as those in missionary service, we join in an ancient tradition of Christians."

The 28 new missionaries in training for international work join 12 others that LCMS World Mission already has placed for the first time — totaling 40 new Synod missionaries in service since last year's orientation.
Three new national missionaries also have been placed and begun serving in Boston, Chicago, and Newark, N.J.

Among the missionary group at CUC were 12 EFL teachers and "relationship builders," two deaconess interns, two communications specialists, four career-missionary families, and a vicar. Their assignments are literally across the globe, to every area served by LCMS World Mission.

Regional directors, LCMS World Mission staff based in St. Louis, pastors, and others led the orientation and training, which included workshops on raising support, spiritual warfare in the field, and connecting and building meaningful relationships.

During an "urban plunge," groups of trainees entered several Chicago ethnic neighborhoods with a list of tasks to complete — to become more comfortable interacting with people from unfamiliar cultural and language backgrounds.

New missionaries also shared thoughts about their upcoming service.

Peter Pfaff, who was born in South Korea to missionary parents, and who just graduated from Concordia University Texas, at Austin, will go to Japan t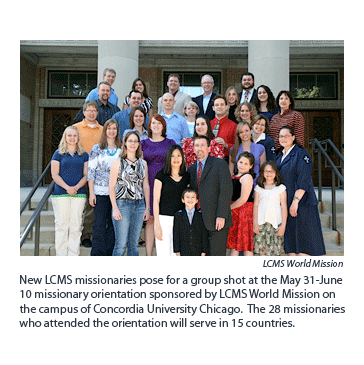 o teach EFL through LCMS World Mission's Volunteer Youth Ministry program. He said he is excited at the prospect of learning the Japanese language.

"After years of taking biblical Greek and Hebrew," Pfaff said, "it will be nice to actually speak what I learn."

Rev. David Mahsman, a new career missionary from St. Louis, has worked with LCMS World Mission since 2005 as assistant to the executive director. Along with his wife, Lois, Mahsman will be based in Frankfurt, Germany, serving with LCMS World Mission's Eurasia team as the director of special assignments.

He said he considers his assignment as part of "a full circle — that the faith came to North America from Europe, and now we need to take the faith back because today's Europeans have drifted away from it. Whatever I can do to restore the Gospel to the land of most of our ancestors is a positive and godly thing."

For more information about service opportunities through LCMS World Mission and to view photos from this year's orientation at Concordia University Chicago, visit LCMS World Mission's Web site at www.lcmsworldmission.org.

To download the new missionaries' prayer cards, go to www.lcmsworldmission.org/prayercards.
Katie Kuekes, a participant in LCMS World Mission's new missionary orientation and training this year, is preparing for first-time missionary service as the communication specialist for Eurasia.
Posted July 9, 2009