Dr. Thomas R. Ahlersmeyer, who has served as the fifth president of Concordia University, Ann Arbor, Mich., for the past four years, has announced his resig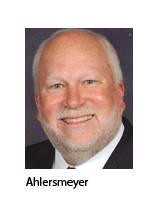 nation, effective Dec. 31.
The university's Board of Regents has asked Senior Vice President Charles Winterstein to serve as acting president. The board will meet in January to discuss leadership plans for the school.
Ahlersmeyer says he will hold two "town hall" meetings — one for faculty and staff, the other for students — Dec. 15 at the university.
In a Dec. 7 e-mail to Concordia, Ann Arbor, faculty, staff, and students, Ahlersmeyer said, "I view our leadership change as a great opportunity to rethink and rededicate our efforts to make CUAA the best it can be."
The e-mail included a copy of a Dec. 7 resignation letter Ahlersmeyer sent to Dr. Paul A. Naumann, chairman of the school's Board of Regents.
"I thank and praise God for giving me opportunities to serve this university since the early 1990s, first as a donor, then as a committee member, regent, interim president, and, most recently, president," the letter states. "Janet and I always will remember and value our relationship with Concordia and its various stakeholders as a great blessing, privilege, trust, and joy from God.
"Trusting that I have faithfully completed what God prepared in advance for me here at Concordia, I now pray for God's continued blessings on the work of the consecrated staff and faculty who enable Concordia to achieve amazing things," Ahlersmeyer writes. "I also pray that our awesome and gifted students — the greatest joy of this ministry — will continue to find Concordia the best possible environment to develop their God-given vocations. My prayers will be with you and the Regents as you seek God's will regarding Concordia's future and leadership."
Ahlersmeyer, 55, served as the school's interim president from August 2003 until accepting the presidency in October 2005. He succeeded Concordia's fourth president, Dr. James Koerschen. Prior to becoming interim president, Ahlersmeyer served eight years as executive director of the Cleveland Lutheran High School Association. He also has served as pastor of LCMS congregations in Ohio and Florida.
"The Board for University Education [BUE] thanks Dr. Ahlersmeyer for leading Concordia, Ann Arbor, during these last six years and acknowledges his significant contributions to the university," said Dr. Kurt Krueger, executive director of the BUE. "Dr. Ahlersmeyer is a gifted and talented man, and the Lord will undoubtedly continue to use him in service to the Kingdom.
"During this period of transition," Krueger added, "the BUE stands ready to assist Concordia's Board of Regents as it seeks to identify new leadership to move the university into a bright and successful future."
Posted Dec. 9, 2009