Anytime of the year is a good time to do a "Planned Act of Christian Kindness" (PACK), according to Jeff Van Beaver, president of Acts 1:8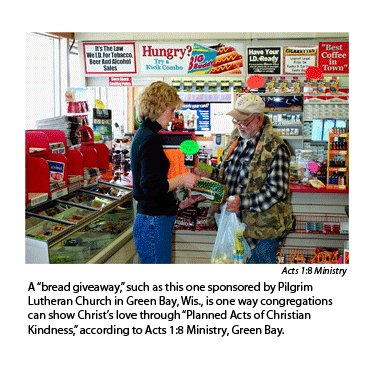 Ministry of Green Bay, Wis.
In the fall, a PACK activity might be raking leaves for elderly residents, helping someone "winterize" their home or car, or taking a newspaper and a cup of coffee to a shut-in. Winter activities could include helping people bag their groceries, giving away loaves of bread, washing car windshields, wrapping Christmas gifts, babysitting, or shoveling snow.
The list of ways Christians can help others is endless, says Van Beaver, a member of Pilgrim Lutheran Church in Green Bay. And it doesn't have to be expensive, he adds: "Just taking the time to reach out to someone means more to them than anything. This is a great program to do on your own or with a group of people. It's never too early to teach a child about PACK events."
The seven-year-old Acts 1:8 Ministry touches hundreds of thousands of lives each year with the love of Christ, according to Van Beaver. It works to carry out its mission — "Equipping Christians to care, share, and connect people to Christ worldwide through Christian kindness" — by providing free idea kits to congregations that commit to doing at least one PACK activity per month.
Congregations that get involved are encouraged to tell those they are helping that they are "showing them Christ's love in a practical way," and that "God's love is free, just as this gift is free."
Generally, those on the receiving end of PACK activities "are shocked," says Van Beaver. "They start to ask questions, and before you know it you are sharing about your faith and what God has done for you in your life."
For more information about Acts 1:8 Ministry and its PACK program, call 920-494-2289 or visit www.acts18.org on the Web.
Posted Nov. 18, 2009