Atlantic
June 5-6
Bronxville, N.Y.
Elected:
Dr. David H. Benke, Queens, N.Y., seventh term, by acclamation. Benke was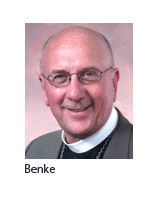 unopposed.
Rev. Charles W. Froehlich, Dix Hills, N.Y., first vice president (non-geographic).
Rev. Deric A. Taylor, Tuckahoe, N.Y., second vice president, Region 2 – Metro New York.
Rev. James A. Jaekel, Saratoga Springs, N.Y., third vice president, Region 1 – Upstate New York.
Rev. Charles R. Byer, Calverton, N.Y., fourth vice president, Region 3 – Long Island.
The officers were installed during the convention.
Under the theme of "Engaging the World with the Gospel of Hope," delegates at the 57th Atlantic District convention voted to:
restructure the district's regions and circuits to improve efficiency. The two resolutions — passed unanimously – create three new regions in place of four, and 10 new circuits instead of 12.
make the revitalization of the district's congregations and schools a priority and set a goal of using "Transforming Congregations" strategies in 25 percent of congregations over the next three years. A report detailing subsequent membership and mission growth will be shared at the district's next convention in 2012.
encourage the development of mission leaders and professional church workers within congregations and ministries to help meet the district's goal of training 200 new mission leaders by 2017.
authorize the district's board of directors to dedicate funds in each of the next three years for Ablaze! grants to congregations. Fifteen congregations received such funds for evangelistic outreach efforts in 2008.
identify and train church leaders as "Consecrated Stewards" and to provide resources for stewardship development. The adopted resolution also asks the district to present a districtwide stewardship symposium to demonstrate how congregations can improve their stewardship efforts.
save Lutheran schools by encouraging the use of assessment resources provided by the Lutheran Schools Association, and asking congregations with school ministries to seek partnerships with public and private enterprises that will foster quality Christian educational programs.
Posted June 10, 2009