Central Illinois
July 5-7
Springfield, Ill.
Elected: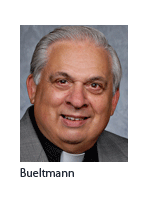 Rev. David J. Bueltmann, Buffalo, Ill., president, fifth term, fourth ballot. Bueltmann has served in the post since 1995, completing two years of Dr. Robert Kuhn's term when he was elected that year as LCMS first vice president.
Rev. Donald Pritchard, Pleasant Plains, Ill., first vice president.
Rev. Mark Miller, Pekin, Ill., second vice president.
Under the convention theme of "Born Again to a Living Hope," from 1 Peter 1:3, delegates to the district's 56th regular convention voted to ask the LCMS convention to:
provide "time for consideration" of overtures to the LCMS convention regarding opinions of the Commission on Constitutional Matters (CCM). The resolution also asks that such overtures "not be removed from the docket or included in any omnibus resolutions to decline overtures" when they are submitted by a circuit forum, an official district conference of ordained and/or commissioned ministers, the LCMS Board of Directors, a district board of directors, or a district convention. It further asks that failure to vote on such overtures at the LCMS convention "shall declare that CCM opinion null and void."
delay action on the report of the Task Force on Synod Structure and Governance until the LCMS convention in 2013 so that Synod entities will have ample time to study it and "consider its full implications."
promote "Lutheran identity" in the mission field by seeking the lost and using the name "Lutheran."
encourage LCMS World Mission to expand Word and Sacrament ministry on the mission field by increasing the number of ordained missionaries serving foreign assignments.
direct the Synod's Board for Pastoral Education and Council of Presidents to develop a plan to make sure that those conducting Word and Sacrament ministry have been called to such ministry, and that alternate routes to the ministry be phased out in favor of the Specific Ministry Pastor program.
allow for the election of members of the Commission on Constitutional Matters.
Delegates also adopted resolutions to:
encourage district congregations to make use of evangelism resources to bring more people to worship.
encourage district circuits to establish "mission councils" to support new missions and encourage mission outreach.
reaffirm the scriptural definition of marriage as being "a life-long union of one man and one woman."
ask the district's Congregational Life Commission to develop resources to address the decline in worship attendance and conduct worship conferences or seminars to build a greater understanding of worship.
ask the district to provide stewardship materials to promote "first fruit" giving, and encourage congregations to provide a minimum of 10 percent "for the Lord's work through the district and Synod."
continue the district's partnership with the Evangelical Lutheran Church of Latvia by providing "prayers, regular communication, friendship, and resources."
establish a regular schedule of family convocations in the district.
encourage congregations to establish "Called Worker Care Committees" to keep church workers healthy, and provide guidelines and resources for congregational use.
Posted July 9, 2009