To encourage more Lutheran participation in the Jan. 22 "March for Life" in Washington, D.C., a group bus ride is being offered by LCMS Life Ministries, a program area of LCMS W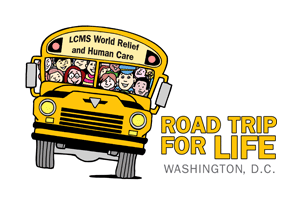 orld Relief and Human Care (WR-HC), and the Lutherans For Life (LFL) delegation is arranging free lodging for travelers.
Titled "Roadtrip for Life," the bus ride will be hosted by LCMS Life and Health Ministries Director Maggie Karner, whose department is co-sponsoring the ride with Advent Lutheran Church in Zionsville, Ind., which is providing the bus.
The bus ride will originate in Indianapolis, and enable those interested in joining other Lutherans for the 37th annual march to ride along with Karner as a group. Reservations will be on a first-come, first-served basis, with a donation requested to assist with the costs of gas and driver fees.
To reserve a spot on the "Roadtrip for Life" bus, call Karner or Sandy Burris at 800-248-1930, ext. 1371, or e-mail maggie.karner@lcms.org.
After arriving in Washington, participants may stay for up to two nights free in the homes of area Lutherans, arranged by members of the LFL delegation.
Dennis Di Mauro, organizer of the delegation for the 12th year and leader of the LFL chapter in northern Virginia, said the march to protest the 1973 Supreme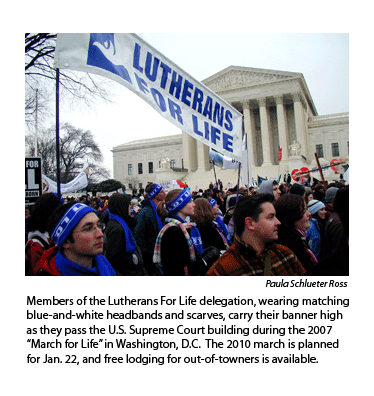 Court decision to legalize abortion is more important this year than ever as the country debates the health care system.
"In 1976, the Hyde Amendment, which prohibited the use of federal dollars to pay for abortion coverage, was passed. And since that time, it has been our national policy not to use federal tax dollars for abortion. Participating in the march is one way of letting our representatives know that we want to keep the Hyde Amendment and do not want federal tax dollars to be used to pay for abortion," he said.
Di Mauro said that women should have true alternatives to abortion, including adoption, and should be offered financial and spiritual assistance so they can make the right choice for their children and themselves.
"Let's not let our goal of providing quality health care for every American be used as a tacit endorsement of abortion," he said.
On the day of the march, the Lutheran group will worship at Immanuel Lutheran Church in Alexandria, Va. LCMS WR-HC Executive Director Rev. Matthew Harrison will serve as guest speaker. Last year, more than 160 attended the service.
Following a brunch, the group will travel to downtown Washington for the rally and noon march from 7th Street, down Constitution Avenue, to the Supreme Court building.
For more information on the 2010 March for Life or to arrange for free lodging in the Washington, D.C., area, contact Di Mauro at 703-568-3346 or e-mail dimauro.dennis@gmail.com.
Posted Nov. 11, 2009