Dr. Herbert F. (Herb) Brokering — a Lutheran pastor and well-known author, poet, playwright, hymn writer, and popular speaker — died from congestive heart failure Nov. 7 at his home in Bloomington, Minn. Dr. Brokering, 83, spoke by pho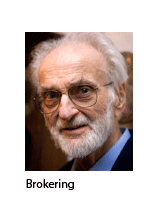 ne with his three grown sons just before his death. His daughter was at his side.
A memorial service is scheduled for 2 p.m. Saturday, Nov. 21, at Central Lutheran Church, Minneapolis, an Evangelical Lutheran Church in America congregation. His body was cremated.
He is survived by four children — Mark (Amy) Brokering of Mill Valley, Calif.; Beth Brokering, Minneapolis; Jon (Aya) Brokering, Tokyo; and Chris (Tracy) Brokering, Minneapolis; and five grandchildren. Lois, his wife of 54 years, died in 2004.
Dr. Brokering, whose 60-some years of ministry began with pastorates in The American Lutheran Church (ALC), wrote more than 50 books and numerous hymns. Four of those hymns (including "Earth and All Stars") are in the Synod's Lutheran Worship hymnal.
In addition, he was a frequent presenter and consultant for Lutheran youth gatherings (including LCMS Gatherings), designer of 40-some Renaissance Reformation festivals with Luther scholar Roland Bainton, reportedly led 100-plus pilgrimages to Luther sites in Germany, and promoted healing, justice, and peace with other pilgrimages and projects in India, China, and other countries.
"Herb was the consummate imaginer for youth ministry in the 1970s and 80s," said Dr. Terry Dittmer, director of Youth Ministry for LCMS District and Congregational Services.
"His poetry, creativity, imagination, and faith touched many aspects of what we [in the LCMS] did," Dittmer said. "He often consulted with Youth Ministry, bringing to us his love for Jesus, his incredible appreciation for Baptism, his love for God's people and his commitment to servant ministry. He was a valued consultant, particularly on international Servant Events in the 1980s. He always liked to stretch people. You never knew what would come from his fertile imagination, but you always knew he would challenge you and you would grow in the faith."
A 1950 graduate of Capital (now Trinity Lutheran) Seminary, Columbus, Ohio, Dr. Brokering received honorary doctorates from four Lutheran higher-education institutions – Concordia University Texas, in Austin; Trinity Lutheran Seminary; Wartburg College, Waverly, Iowa; and St. Olaf College, Northfield, Minn. In 2004 the Luther Institute in Washington, D.C., gave him its Wittenberg Award for outstanding contributions to church and society.
Dr. Brokering was director of Confirmation for the ALC while serving on its national staff from 1960 to 1971. He also was a staff associate with Wheat Ridge Ministries for 11 years, and taught at Luther Seminary in St. Paul for 23 years.
A message on Wheat Ridge's Web site states that it "was greatly blessed by Herb's passion for our mission of seeding new ministries of health and hope. In so many ways, he was at the soul of our ministry as he helped us all to find creative and new ways to share the joy of Christ through the seeding of new ministries. … [He] touched the lives of so many through the writing, composing, and speaking which he loved to do on behalf of Wheat Ridge."
Among musicians Dr. Brokering worked with were Dr. Carl Schalk, distinguished professor of music emeritus at Concordia University Chicago, and jazz musician Dave Brubeck. Together, he and Schalk wrote the hymn "Thine the Amen, Thine the Praise." "Beloved Son," a jazz cantata linked to the life of Jesus that he wrote with Brubeck, was recorded at Abbey Road studios in 2005, featuring the London Symphony Orchestra and the Dave Brubeck Quartet.
"The earth and all the stars are shining brighter these days because of Herb," Dr. Rich Bimler, former president of Wheat Ridge and former director of LCMS Youth Ministry, wrote to Reporter via e-mail.
Bimler, who visited Dr. Brokering in the days just before he died, wrote that "his mind, of course, was as creative and Christ-centered as ever until his last breath of life on this earth."
Bimler indicated that individuals who contacted him after learning of Dr. Brokering's death "stated again and again Herb's involvement" in various pursuits with Wheat Ridge, the Synod, and others. He said they often mention "his writings and creative way of seeing the Lord in all of creation," as well as "his abilities to connect faith and life in Christ in humorous and human ways. A giant saint indeed, for me and many others!"
Among worship held so far in Dr. Brokering's memory has been a memorial service at Holden Village, a Lutheran camp and retreat center in Washington state where he and Schalk wrote "Thine the Amen, Thine the Praise" in the early 1980s for a vespers service. Also, the board of Lutheran Music Program, on which Bimler and Schalk serve and that sponsors the Lutheran Summer Music Academy and Festival, sang that hymn during its Nov. 7 devotions, after learning of Dr. Brokering's death.
The family suggests that memorial contributions be made to The Herbert and Lois Brokering Healing Arts Endowment Fund at Wartburg College, Waverly, Iowa.
Posted Nov. 13, 2009