Maureen Consiglio of Coram, N.Y., has been appointed chairman of the 2013 Lutheran Wo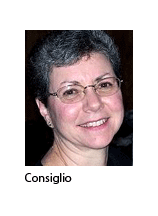 men's Missionary League Convention Host Committee.
Consiglio is president of the LWML's Atlantic District. As chairman, she will work with the six LWML districts that are hosting the June 27-30, 2013, convention in Pittsburgh — Atlantic, Eastern, English, New England, New Jersey, and SELC.
"There will be exciting challenges for the six host districts, due to the large geographic area they cover," said LWML President Janice Wendorf. "I am confident in the excellent leadership that the Lord has provided to Maureen as she begins developing the host committee team for the Pittsburgh convention."
Consiglio said she is honored by the appointment, "thankful for the opportunity," and will "pray for guidance."
She added: "With the help of God and the members of the six LWML districts hosting the convention, I will do my best to fulfill the duties as Host Committee chairman."
Posted Nov. 18, 2009