Two upcoming conferences that focus on outreach on U.S. college and unive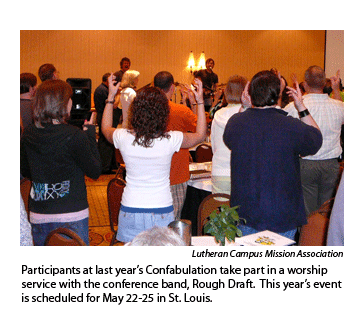 rsity campuses are scheduled for St. Louis in May.
The fifth annual LCMS Campus Mission Confabulation, May 22-25 at the Crowne Plaza St. Louis Airport Hotel, is designed for anyone who's interested in sharing Christ's love on campus — whether starting a campus mission, already involved in a campus mission, or trying to revive a struggling campus mission.

The event is sponsored by the Lutheran Campus Mission Association, which works in partnership with LCMS World Mission to support, promote, and expand campus mission Synodwide.

The theme, "Always Be Prepared," is from 1 Peter 3:15b: "Always be prepared to give an answer to everyone who asks you to give the reason for the hope that you have."

Plenary session topics and their presenters are:
"Jesus and Muslims," led by Rev. Nabil Nour, pastor of Redeemer Lutheran Church, Armour, S.D., and Mehr Nisa, a Detroit-area college student and a former Muslim who is now Christian. The two represent People of the Book Lutheran Outreach, an international LCMS mission society that works to share the Gospel with Muslims and other ethnic groups.
"Jesus and Jews," by Steve Cohen, founder of Apple of His Eye, an LCMS mission society that seeks to "bring the message of Jesus the Messiah to Jewish people and gentiles alike — and to equip the church to do the same."
"The Deaf Hear," by Rev. John Reinke, pastor of Our Savior Deaf Lutheran Church in Madison, Wis., and director of the Deaf Institute of Theology at Concordia Seminary, St. Louis.
"The Blind Receive Sight," by Rev. Dave Andrus, executive director of Lutheran Blind Mission, an LCMS mission society in St. Louis.
Rev. James Likens, an LCMS actor, musician, and owner of JDL Video Productions in St. Louis, will perform as Julius, a centurion, in "Canceled – A Story You will Never Forget" during the conference's opening banquet.
Participants also may choose to attend two of four breakout sessions on "Stepping Outside the Box," "Cross Training," "Funding the Mission," and "How to Set Up a Mission Trip."
Other conference activities include Bible study, worship, discussions, a concert by "Lost and Found," a social outing, and a servant event.
Early registration (by April 6) is $145 for college students and $195 for others; regular registration (no later than April 20) is $195 for college students and $245 for others. Registration includes most meals. Lodging is available at the Crowne Plaza for $67 per night (for one or two guests per room) and $73 (for three or four).
Online registration and more information is available at www.lcma.info.
Focusing on ministry among international students, the International Student Ministry Equipping Conference will be held May 28-31 at Concordia Seminary, St. Louis.

The conference, held every two years, is sponsored by International Student Ministry, Inc., a mission society associated with LCMS World Mis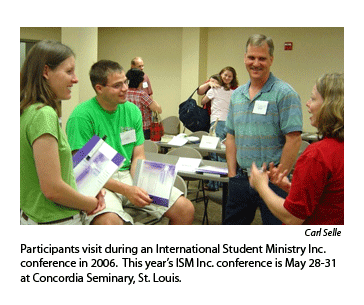 sion. This year's theme is "Sharing Jesus in the 21st Century."
"With international student ministry, we touch people who are the brightest and best from their countries," commented Rev. Carl Selle, LCMS national missionary consultant for international student ministry and a campus pastor at the University of Wisconsin, Stevens Point. Selle said estimates are that 90 percent of international students do not know Jesus Christ when they come to the U.S. for study.
"If these people come to know Jesus, they go back excited about their faith, eager to share it in communities that are not predominately Christian," he said. "Many come from countries closed to missionaries and this gives us opportunity to reach into places where we cannot go any more."
Keynote topics and speakers at the conference include:
"A Vision Worth Living and Dying For," Rev. Robert Lange, former LCMS counselor for campus ministry who was instrumental in the expansion of campus ministry to include international students.
"Perspectives of International Student Ministry in an American Unchurched Culture," Rev. Larry Krueger, assistant to the LCMS president and former campus pastor in Denton and College Station, Texas.
"Faith through Mercy," Deaconess Grace Rao, mercy district contact with LCMS World Relief and Human Care.
Dr. Robert Newton, president of the LCMS California-Nevada-Hawaii District, will be the Bible study leader. Newton previously served as an evangelistic missionary in the Philippines and as a professor of world mission at Concordia Theological Seminary, Fort Wayne.
Nine workshops will be offered on topics ranging from worshiping with internationals to equipping and keeping volunteers.
A registration fee of $125 per person will cover programs, lodging, and meals from Thursday dinner through Sunday lunch. The fee is $75 for individuals who do not need housing. The registration deadline is April 15.
Conference sessions will be held at Concordia Seminary, with lodging at nearby Fontbonne University.
More information and a registration form are available at www.isminc.org.
Posted Feb. 18, 2009