All three districts of the Lutheran Church–Canada held their conventions this spring, with one of them electing a new president.
Among resolutions focusing on outreach and mission, the Alberta-British Columbia (ABC) District encouraged planne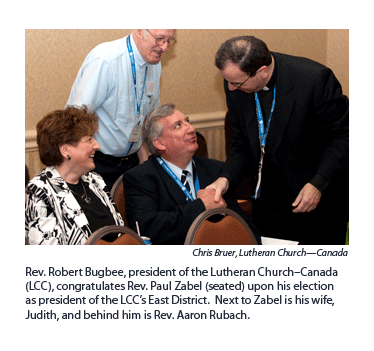 d Christian witness to the thousands of athletes, coaches, and spectators who are expected in Vancouver for the 2010 Winter Olympics.
Meeting May 22-25 in Vancouver, the ABC District was the last of the three LCC districts to hold its convention. Delegates re-elected Rev. Donald Schiemann, who ran unopposed for district president.
The Central District, April 28-30, re-elected Rev. Thomas Prachar to his fourth term as president.
In the East District, May 11-13, Rev. Paul Zabel, pastor of St. John Lutheran Church, Clifford, Ontario, was elected president on the second ballot, succeeding Rev. Allen Maleske.
Business sessions of all three conventions could be viewed live on LCC's Web site. The webcasts were streamed through the free service at Ustream.tv and included PowerPoint presentations by the presenters.
"Webcasting is an inexpensive way to bring our far-flung church together as a community online," said Dr. Ian Adnams, LCC director of communications.
Adnams added that the East and ABC conventions included well-attended workshops on the use of Internet technologies and social media. During those conventions online viewers were able to ask questions of the essayists during Q&A sessions. LCC's own Twitter feed provided instantaneous updates from all three conventions.
The ABC District also adopted a resolution to create a partnership with the New South Wales District of the Lutheran Church of Australia. The LCC established a formal relationship with the Australian church body in 1993. In another resolution, the convention asked the district to investigate the possibility of church worker sabbaticals.
At the East District convention, delegates affirmed a balanced approach to mission that supports both existing and new mission congregation starts and, in another resolution, continued the district's stewardship initiative. During dinner, the delegates heard presentations from LCC Missionary Aleksey Navrotsky, who serves in Dnepropetrovsk, Ukraine, and Javed Khan, who works with new Canadians living in the Windsor area.
In the Central District, delegates defeated a resolution that would schedule future conventions over weekends rather than weekdays. They adopted a resolution asking the LCC's Council of Presidents to review the relationship between participation in Communion and the Rite of Confirmation. Mission reports included La Ronge Fellowship in northern Saskatchewan; Street Reach in Thunder Bay, Ontario; Hispanic outreach in Brandon, Manitoba; and German-language outreach to immigrants in Winkler, Manitoba.
Posted June 3, 2009