Dr. Steve Christopher of Livermore, Calif., began serving Feb. 1 as associate director of LCMS District and Congregational Services — Childre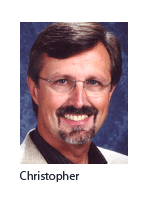 n's and Family Ministry.

In that deployed position — formerly held by Lori Aadsen of Bourne, Texas — he serves as a resource to congregations and districts in the area of family ministry programming support.

A 1979 graduate of Concordia Teachers College (now Concordia University), Seward, Neb., Christopher has over the years served California Lutheran congregations in directorships of Christian education (DCE), youth ministry, and family ministry. He was director of the DCE program and a professor at Concordia University, Irvine, Calif., from 1988 to 1999).

He most recently served as director of Family Ministry and executive for Youth Ministry (1999-2004) and director of Discipleship (2004-09) for Our Savior Lutheran Ministries, Livermore.

He also has worked with the executive staff of the LCMS California-Nevada-Hawaii District.

Christopher has held leadership roles in youth and family ministry events at the district and national levels; has written curricular material for Concordia Publishing House; and since 2006 has been the author of "24-7," the LCMS family-ministry e-newsletter.

He earned a Master of Arts in practical theology from the University of San Diego in 1989, and a Ph.D. in educational leadership in 2001 from the Talent School of Theology, Biola University, La Mirada, Calif.

He and his wife, Dee, are the parents of two children.
Posted March 18, 2009