By Sarah Schafer
Although crews have been working for two weeks to restore power after a late January ice storm hit areas of Missouri, Arkansas, and Ken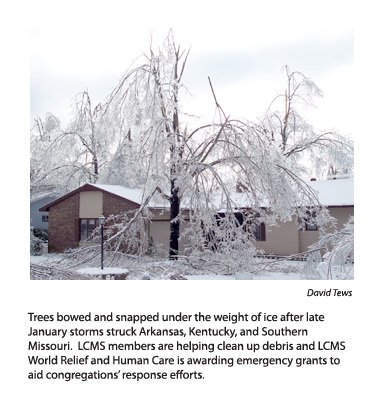 tucky, some residents may wait another month before their lights come on.
Meanwhile, LCMS congregations and LCMS World Relief and Human Care are extending help to their neighbors after a storm that some call the worst in memory.
Some members of Concordia Lutheran Church, Sikeston, Mo., may wait a month for electricity, while in Clay County, Ark., home of St. Matthew Lutheran Church, Corning, 45 percent of residents are without power as electric crews repair 2,677 miles of downed lines.
During a visit on Feb. 9 — two weeks after the storm — Mid-South District President Ken Lampe said more electrical poles were down than were up.
In Horseshoe Bend, Rev. David Tews, pastor of Shepherd of the Hills Lutheran Church, likened the destruction to a tornado. Trees uprooted and branches broke under the weight of ice, taking down power lines and causing property damage.
Rev. Jon Bishof, who serves dual parishes in Corning and Paragould, Ark., replaced his roof in November. During the ice storm, a tree landed on his home. "Our whole roof is collapsed on one side," he said.
From Shepherdsville, Ky., Rev. John Lehenbauer wrote,"The amount of trees and branches that are down is pretty staggering … both in our area and in Leitchfield." He is pastor of Divine Savior Lutheran Church.
For nearly two weeks, St. John Lutheran Church in Lafe, Ark., acted as a staging area, providing hundreds of meals to residents and electrical crews. LCMS World Relief and Human Care (WR-HC) provided a grant to the congregation to cover groceries and other costs, including the purchase of generators for the church and its members.
As power is restored, LCMS churches are focusing on cleaning up the trees and branches. "There will be some work to do for a while yet," said Rev. Curt Dwyer, pastor of St. John.
WR-HC also awarded a grant to First Lutheran Church in Blytheville, Ark., to help 15 to 20 families replenish food essentials as they return home. At least two more grants are in the works.
WR-HC staff Rev. Glenn F. Merritt, director of disaster response, and Rev. Carlos Hernandez, director of districts and congregations, plan to visit Sikeston, Mo., on Feb. 13 to tour affected areas of Missouri and Arkansas, help with assessment, and offer pastoral care.
Already, volunteers from Perryville, Mo., to Memphis, Tenn., have helped with clean-up efforts. Bette Coatney, receptionist at Christ the King Lutheran Church in Memphis, responded to district president Lampe's Feb. 2 call for assistance and organized a group of 11 area members.
"It's an opportunity for us to reach out to others and witness our love for Christ and for people in need," said Lampe.
In Missouri, three groups from Immanuel Lutheran Church, Perryville, Mo., made the short trip south to help members in Zennith-Hornersville, Bertrand, and Sikeston-Charleston.
"These congregations are clearly demonstrating the calling of the church as they reach out by touching the lives of others with mercy and hope," said Merritt. "The compassion of Christ is shown through His people as they are united to bring help and healing to those in need."
To read more about LCMS response efforts, how you can help with clean-up efforts, or to make a financial gift, click here.
Sarah Schafer is senior writer for LCMS World Relief and Human Care.
Posted Feb. 12, 2009