Two Concordia University System schools are offering new programs of study.
Concordia University, Irvine, Calif., has approved a minor in worship arts leadership. The program, open now to students, addresses contemporary and traditional approaches to worship "that are biblically grounded, theologically sound, and aesthetically pleasing," according to a university announcement.

The minor includes courses in music, theology, song selection, how to put a se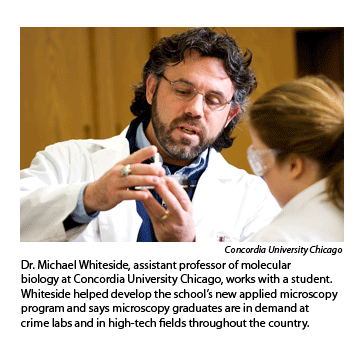 rvice together, and how to select a worship team. It is designed to provide training in various worship styles, the use of technology and media in worship, service planning, and the use of drama and visual arts.
The new program was a joint effort of Concordia–Irvine's Christ College School of Theology, the Music Department, and Campus Ministry. The minor is offered by Christ College, in conjunction with the university's fine arts departments.
For more information, contact Jon Jordening at jon.jordening@cui.edu or 949-854-8002, ext. 1550.
Beginning with this year's fall semester, Concordia University Chicago, River Forest, Ill., will offer a bachelor of science degree in applied microscopy. The new program, which also offers a minor, is a partnership of the university and the College of Microscopy in Westmont, Ill.

Applied microscopy encompasses the use of light microscopy, electron microscopy, infrared and Raman spectroscopy, sample preparation, and small-particle handling to solve problems and analyze or build materials on a nearly sub-atomic scale.

Industries that use applied microscopy include environmental and ecological sciences, materials engineering, forensic science, homeland security, public health and safety, art and archaeology, chemical and contamination identification, nanotechnology, and manufacturing.

The new program is among the first dedicated bachelor of science microscopy programs in the country, according to the university. Traditionally, employers seeking microscopists hire candidates with bachelor of science degrees in chemistry, physics, or another natural science, according to Dr. Anita Briedis-Bilsens,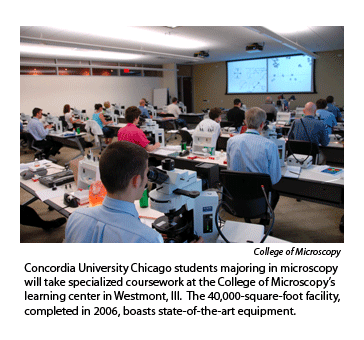 chair of the Department of Natural Sciences at Concordia. "In the coming years, graduates with a bachelor of science specifically in applied microscopy will have an edge in securing these positions," Briedis-Bilsens said.
"It is among the highest-demand degrees out there," said Dr. Michael Whiteside, Concordia's assistant professor of molecular biology who helped develop the program. "If you are studying the sciences, microscopy is one of the best degrees to ensure work right out of school, whether it's at a crime lab or in any number of high-tech fields."
Applied microscopy majors at Concordia will complete three years of required courses in general, organic, and analytical chemistry; biology; forensic science; instrumental analysis; calculus; and physics. They will spend their final two semesters taking classes with scientists and microscopy educators at the College of Microscopy.
For more information, contact Concordia's Office of Undergraduate Admission at admission@cuchicago.edu or 877-CUChicago (282-4422).
Posted Feb. 18, 2009