International students will gain leadership skills and opportunities to grow and share their Christian faith during a May 13-20 training conference sponsor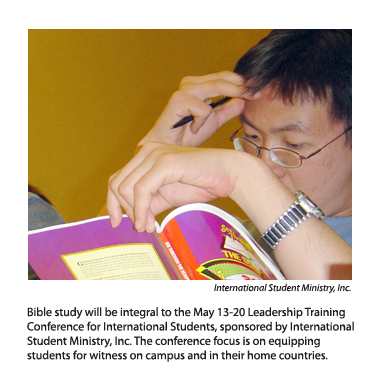 ed by International Student Ministry, Inc. (ISM).
The annual Leadership Training Conference for International Students will be limited to 25 international students who are Christians or "serious seekers." It will be held at Sojourn, a Christian retreat center in Dittmer, Mo., west of St. Louis.
"We do three tracks," explained Rev. Carl Selle, conference facilitator and pastor at Peace Lutheran Campus Center serving the University of Wisconsin, Stevens Point. He said one track is study of God's plan of salvation as revealed in the Bible, another is the study of Christian teaching and Luther's Small Catechism, and a third is small group leadership skills.
"We divide the participants into small groups of three," Selle said. "Each day one person is responsible for leading prayer and conversation about the day's learning. The main focus is to equip them for when they get back to campus and to their home countries. The conference really gives them a boost toward leadership and sharing their faith with others."
The retreat sponsor, International Student Ministry (ISM), is an LCMS-affiliated mission society that focuses on ministry to international students on U.S. campuses.
Campus ministries are encouraged to cover the $125 registration for individual participants. ISM, in partnership with LCMS World Mission, will pay for lodging and meals. Participants' travel will be reimbursed at the retreat.
ISM began including "serious seekers" at the conference last year, according to Selle. "We found the conference was a unique benefit for the two — Christians and serious seekers — to interact with each other."
Other conference teachers will be Judy Henke, international student ministry director, Calvary Lutheran Chapel, University of Wisconsin, Madison; Rev. Paul Hoemann, campus pastor, Texas A&M University, College Station; and Rev. Lee Meyer, campus pastor, Arizona State University, Tempe.
The registration deadline is March 2. For information, click on "In-Depth Training" at www.isminc.org or call Selle at 715-345-6510.
Posted Feb. 12, 2009