"No way — that's in the Bible?" is the reaction author Rev. Jay Reed hears when he talks about the unusual accounts in the Bible that are featured in his new youth Bible study from Concordia Publishing House.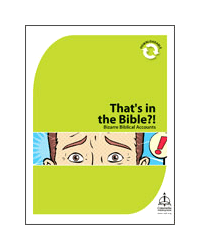 That's in the Bible?! Bizarre Biblical Accounts is a downloadable Bible study that explores 16 of the more unusual, bizarre, or what some might consider "gross" accounts in Scripture.
CPH decided to pursue the project because of feedback received from many middle school leaders, who said how difficult it can be to engage students at this age.
"By this time, particularly if students have been regular attendees at Sunday school, they often think they've heard all the Bible stories. They probably haven't heard these," said Mark Sengele, editor for youth materials at CPH.

Sengele said That's in the Bible?! was designed with middle school and junior high boys in mind. "It captures their already insatiable interest in the bizarre, unusual, just plain gross, and uses it to direct them to the study of God's Word," he said. "But really, the uniqueness of the content draws in the girls, too."

The featured stories include a talking donkey, a guy killed while hanging by his hair in a tree, and the account of a woman who drove a tent peg through a guy's head, notes Reed. "The point of this study is to help students understand the Bible — even the weird parts of it — as God's Word," he said.
Each of the 16 lessons has reproducible student pages. The study also includes materials that can be used to invite students to the study, such as postcard templates, PowerPoint slides, bulletin/newsletter inserts, and clip art.

"These unusual stories from the Bible are especially helpful in capturing the attention of the sometimes hard-to-reach middle school and junior high students while the focus on Christ and the Gospel message remains clear," said Jim Stropnik, marketing manager of Bible studies for CPH.
That's in the Bible?! Bizarre Biblical Accounts ($24.99, item no. 20-3484WEB) is available only online at www.cph.org.
Posted Sept. 16, 2009