Dr. Howard E. Mueller, a long-time Health Ministries leader in the Synod, died of pneumonia Sept. 11 in St. Louis.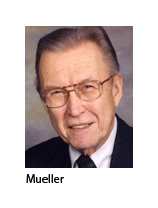 A memorial service was held Sept. 22 in the chapel at Laclede Groves, a retirement facility in Webster Groves, Mo., a suburb of St. Louis.
Dr. Mueller, 93, was assistant director of Health Ministries with LCMS World Relief and Human Care from 1984 to 2002. He helped launch the Synod's parish nurse ministry, and worked to educate Lutherans on HIV/AIDS, writing AIDS: A Christian Perspective, AIDS: A Christian Response, and AIDS and the Miracle of Forgiveness.
He also edited three LCMS health newsletters: Gesundheit, Parish Nurse Newsletter, and Cross and Caduceus.
Dr. Mueller served as a chaplain at the Lutheran Medical Center in St. Louis from 1961 to 1982, and at the University of Kansas Medical Center, Kansas City, Kan., from 1951 to 1961.
Prior to that, he served as pastor of St. Paul Lutheran Church, Topeka, Kan.; Faith Lutheran Church, Ottawa, Kan.; Grace Lutheran Church, Lyons, Kan.; and St. Paul Lutheran Church, Leavenworth, Kan.
In 2004 he received the Christus in Mundo Award from the Inter-Lutheran Coordinating Committee for distinguished service in chaplaincy, pastoral counseling, and clinical education, and in 1993 an honorary Doctor of Letters degree from Concordia University, Mequon, Wis.
"Howard was a prince of a gentleman and a faithful advocate for healing and wholeness in Christ throughout his 30-plus years as a chaplain and as assistant director for Health Ministries with LCMS World Relief and Human Care," said Rev. John A. Fale, associate executive director of LCMS World Relief and Human Care. "He will long be remembered for his quiet, yet persistent service to the church that he loved."
Dr. Mueller was preceded in death by his wife of 61 years, Louise. He is survived by sons Robert (Rose Anna) and Steven (Karen), and daughter Leslie Anne.
The family requests that memorial donations be made to LCMS World Relief and Human Care, with memo to Parish Nursing in memory of Howard Mueller, 1333 S. Kirkwood Road, St. Louis, MO 63122-7295, Attention: Sandy Burris.
Posted Sept. 18, 2009