By Paula Schlueter Ross
ST. LOUIS — They were male and female. Young and old. Black and white. Professional church workers and laypeople.
Some consider themselves lifelong prayer warriors, or "intercessors." Others are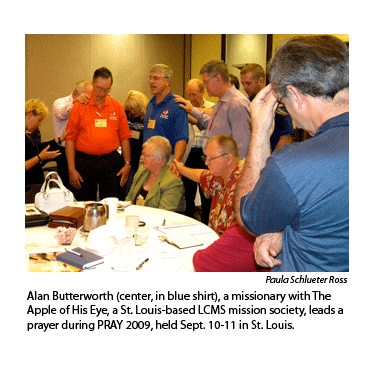 convinced they don't pray enough.
All came together at the inaugural PRAY 2009 event here for one purpose: to pray.
And pray they did!
They prayed for:
The Lutheran Church–Missouri Synod and its various entities, its leaders, its missionaries, its church workers, and its laypeople.
the country, the lagging economy and other national problems, and President Obama and other elected officials.
families affected by the 2001 9/11 attacks and numerous other disasters, including recent fires and droughts.
the Synod's evangelism efforts, and the success of the Ablaze! movement and Fan into Flame campaign.
those struggling with homosexuality, addictions, divorce, and other hardships.
Jewish people and all those who haven't accepted Christ as their Savior.
all 6,000-plus LCMS congregations, that they will "see the lost" in their midst and "hear a call" to reach out to them.
Over two days, Sept. 10 and 11, some 40 PRAY 2009 participants prayed for everyone and everything they could think of — including those who write for the Synod's periodicals, The Lutheran Witness and Reporter. And for each other.
PRAY 2009 also included Bible study, hymn-singing, and discussion, but mostly it involved prayer. At least six hours of its nine-hour agenda was spent in prayer.
"I believe that everything our Synod does needs to be bathed in prayer — and I think we need to be more intentional about that," said Dr. Victor Belton, pastor of Peace Lutheran Church in Decatur, Ga.; a member of the LCMS Board of Directors; and a planner of the first-ever event.
Belton called prayer "powerful" and "essential," and said he was "ecstatic" about the turnout for PRAY 2009.
Belton's co-planner, Rev. Cliff Bira, pastor of Holy Cross Lutheran Church in Flushing, Mich., echoed that sentiment, adding that he would have considered PRAY 2009 a success "even if we were the only two who showed up."
Both Bira and Belton say they are anxious to repeat the experience.
Bira said PRAY 2010, planned for March 25-26, will be congregation-focused, possibly with a live webcast "so that people in churches who can't come can still participate." The emphasis on prayer would be conducted throughout Lent, he added, with special sermons, worship services, daily devotions, and congregational prayer events.
And Belton said he is hoping a group of intercessors can be on the floor of the Synod's national convention in July 2010, "t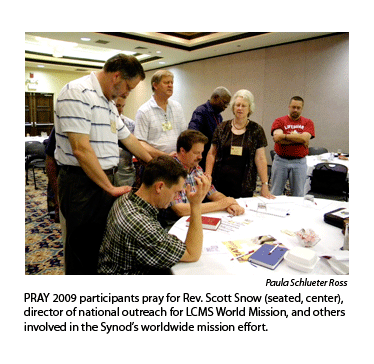 o be in prayer the whole time the convention is going on."
Wheelchair-bound Ulysses Elijah, from Decatur, Ga., said he came to PRAY 2009 "because I love to pray." He called the event "an awesome, wonderful experience," and said it encouraged him and strengthened his faith.
Kay L. Meyer, founder and president of St. Louis-based Family Shield Ministries, said she considers prayer "vital."
"God tells us to pray. So I just felt that I needed to be here," she said. "It was really important."
Meyer stressed that "the power isn't in the prayer — the power is in God," and said she knows of many, many people who came to faith in Christ because others were praying for them.
"So we talked about that during this event, that there are so many people who don't know Christ, and we need to pray, we need to pray fervently" — with passion — "… and know that God will change things."
Janice Wendorf, president of the Lutheran Women's Missionary League, called the event "an awesome opportunity for our church to unite in prayer."
Wendorf said she wants to increase the time she spends in prayer, but believes God brought her to PRAY 2009 for a special reason — to meet Eileen Wendorf (no relation), who had sent an e-mail to the LWML president months ago, asking if she could pray for her.
"We got to know each other, and she prayed on the spot for me … and has promised to continue to pray for me," Janice Wendorf said. "God ordained that the two of us would be at this event."
Eileen Wendorf, of Montgomery, Ill., called the meeting "a divine connection," and said God nudged her during prayer to contact the LWML leader. "I don't believe it was my idea — it was God-inspired," she said.
Prayer, Wendorf added, is the "focus" of her life, so when she heard about PRAY 2009, she knew "immediately" that she would go. "There was just something in my spirit that leapt," she said. "I've been waiting for something like this for so long."
Calling prayer "an important part" of his life, LCMS First Vice President William Diekelman attended an early-morning session of PRAY 2009 and said he "wasn't disappointed."
During the hour-and-a-half session, as he sat in their midst, the event's participants "laid hands on me and prayed for me for about 20 to 30 minutes. It was incredible," he told Reporter. "I told the group before we were dismissed at 6:30 that I will never forget that moment as long as I live. It brought tears."
Diekelman said he now uses the conference booklet — which lists the names of LCMS missionaries and district and national officers — as his own prayer list. And, he's added PRAY 2009 participants "to my list of people for whom I pray."
Posted Sept. 16, 2009