New Advent devotions and resources are available from Concordia Publishing House and Lutheran Hour Ministries.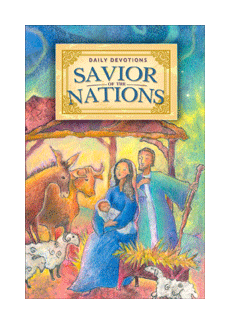 New for 2009 from CPH is the Savior of the Nations Devotional Book ($2.29, item no. 12-4310WEB), which reflects on the biblical imagery of the hymn "Savior of the Nations, Come." Each of the 29 devotions offers a Scripture focus and meditative discussions.
Related products include:
Savior of the Nations Advent Preaching and Worship Resource CD-ROM ($26.99, item no. 155110WEB).
Savior of the Nations Christmas Program CD-ROM ($39.99, item no. 351345WEB).
Savior of the Nations Standard Christmas Bulletin ($8.25, item no. 840935WEB).
Savior of the Nations: Born on Christmas Morn, a paperback book by Melinda Kay Busch ($2.29, item no. 562463WEB).
Also available from CPH are:
Away in a Manger Daily Devotions, new in 2008 ($2.29, item no. 12-4308YSA). Related resources also are in stock.
Come, Lord Jesus, a devotional released in 2007 (99 cents, item no. 12-4315).
To order any of the above resources, contact CPH at 800-325-3040 or visit its Web site at www.cph.org. Prices quoted do not include shipping charges.
Lutheran Hour Ministries (LHM) is offering two new Advent devotions:
From Nazareth to Bethlehem — An Advent Journey is a traditional devotion book "that will show God on the move in the lives of men, both ancient and modern," according to an LHM press release. As author Rev. Vernon Gundermann writes, "He would be the Good Shepherd who would lay down His life for His sheep. For them. For us. For the whole world."
Who Would Have Thought? is written in a more conversational style and uses anecdotal stories, lessons, and family Christmas traditions to show God's love through the birth of His Son. "Who would've thought," asks author Chuck Strohacker, "that God would open His mercy and grace not only to His chosen people, Israel, but to the Gentiles as well?"
Both resources can be customized with a church or school's name, Christmas event schedules, and contact information, and may be downloaded free.
From Nazareth to Bethlehem also is available in Spanish and audio versions, and can be requested as a daily e-mail.
For more information, or to download, visit www.adventdevotions.net.
LHM also has released a new booklet, What is Christmas?, by Rev. Wayne Palmer, that addresses the "challenges and struggles" that many people experience over the Christmas holidays. The booklet reminds readers that God's gift of love in Jesus Christ "can heal every wound and repair every broken relationship," according to LHM.
What is Christmas? is available for 50 cents, or may be downloaded free from LHM's online store at www.lhmgift.org/storefront/product.asp. To order, call 800-876-9880.
Posted Oct. 28, 2009