Concordia Publishing House is offering Halloween treat bags and tracts that share the message of Jesus' love with trick-or-treaters and those who hand out treats.
Available are: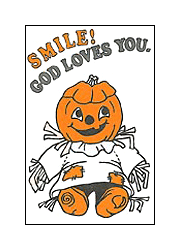 "It's in the Bag," a pack of 50 treat bags with the message "Jesus loves children" ($4.99, item no. 101297WEB).
"Hello! It's Halloween," a tract that promises another "treat … the story of Jesus, our Savior from sin" (50 for $4.99, item no. 101329WEB).
"Smile! God Loves You," a tract that relates, "I want you to know Jesus loves you!" (50 for $4.99, item no. 101328WEB).
"Thanks!," a tract designed for trick-or-treaters to distribute. It says "Thank you for handing out treats. Here is an extra treat for you. Jesus is a friend of mine. Is He your friend too?" (50 for $4.99, item no. 101327WEB).
All of the tracts include space for congregations to add information, such as name, address, phone number, Web site, and worship times.
To order, contact CPH at 800-325-3040 or on the Web at www.cph.org.
Posted Oct. 21, 2009