Concordia Publishing House, the Synod's St. Louis-based publisher, has received the 2009 "Missouri Quality Award" from the Excellence in Missouri Foundatio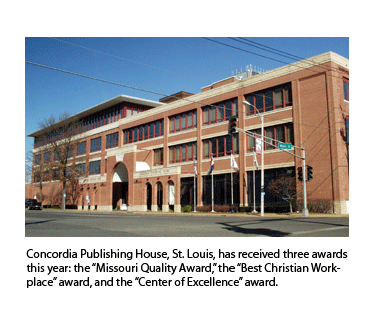 n, which works to promote quality principles in business, education, government, and health care.
The award recognizes excellence in areas such as organizational performance, leadership, and customer service and satisfaction.
"I am proud of you," CPH President and CEO Dr. Bruce G. Kintz told a packed house at an employee town-hall meeting Oct. 22. "What we do at CPH matters. Our mission matters. Quality performance isn't really about the award — it is what we are called to give in service to the Gospel of Christ Jesus.
"This award testifies to that spirit at CPH."
Under Kintz's leadership, CPH began its "quality journey" in 1999 by beginning to align its business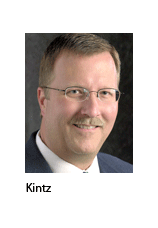 practices at every level with the criteria for performance excellence established by the Excellence in Missouri Foundation. So the honor, said Kintz, is "a testament to the many years of dedicated work at all levels of the organization."
Receiving such recognition "requires a company to operate with the very best processes and practices, and what that means for our customers is that CPH is serious about its mission to serve them," he said. "We give our first fruits and strive to be excellent stewards of the resources that they entrust to us as we develop and produce premier resources to strengthen the work of the Lutheran Christian church."
The award will be presented Nov. 19 during the Missouri Quality Award Banquet at Tan-Tar-A resort at Lake of the Ozarks, Mo.
CPH received two other quality awards earlier this year:
* It was named a "2009 Best Christian Workplace" by the Best Christian Workplaces Institute in June. Certification is based on the results of the institute's Employee Engagement Survey, and awarded to organizations that meet or exceed its standards for excellence.
CPH employees voluntarily completed the survey, rating their levels of satisfaction on a range of issues including job satisfaction, organizational commitment, Christian witness, supervisory effectiveness, personal growth and development, teamwork, communications, and pay and benefits. CPH scored well in all categories, and was noted as "unique [in] that their leadership seeks the suggestions of employees. Also, the staff is highly satisfied with their health plan."
* Its Customer Call Center was designated a "Center of Excellence" by Benchmark Portal and the Purdue University Center for Customer-Driven Quality in March. The award recognizes the center as ranking in the top 10 percent of 20,000 call centers nationwide that were studied for efficiency and effectiveness.
CPH's Customer Call Center averages more than 98,000 calls per year. More than 95 percent of CPH customers give their experience with the Call Center a perfect score for overall satisfaction, according to the publishing house.
Posted Nov. 11, 2009