By Joe Isenhower Jr.

TAMPA, Fla. — While the economic downturn continues to challenge ministries synodwide, district presidents report that congregation-revitalization efforts and programs such as "Consecrated Stewards" are helping offset the e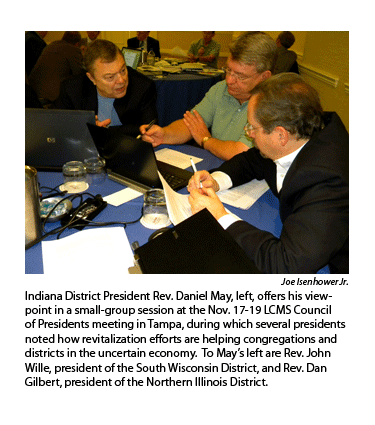 conomy's negative effects as they bolster congregations' vitality and stewardship.

At the Nov. 17-19 meeting of the LCMS Council of Presidents here, four district presidents told of such realities, efforts, and outcomes in a presentation dubbed "the economy of ministry."

They are Rev. Terry Cripe of the Ohio District; Rev. David Stechholz, English; Rev. James Keurulainen, New England; and Rev. Kenneth Hennings, Texas.

Of those four districts, Texas is the one least affected by the economic downturn, as the state's population and work force continue to grow, and the district's budget is less stretched.

"God is blessing us tremendously in Texas," Hennings said, "and we hope to use it to be a blessing to many."

On the other hand, northern states such as Ohio have particularly seen economic loss. For instance, 20,000 workers in Cleveland lost their jobs on the same day, Cripe reported.

Lutheran congregations in the state's urban and rural areas have been especially hard hit, he said. And this year, the district is about $50,000 behind in its budget.

But Consecrated Stewards, congregation-revitalization efforts, and a "Connecting the Congregations" PowerPoint presentation the district's Board of Directors uses to communicate with circuit leaders and laity have "picked up the slack" for many congregations, he said.

With such help, Ohio congregations are staying healthy, helping each other, and increasing financial support for the district, Cripe added.

Through mission bequests from a five-year "Blueprint for Missions" program, the New England District has seen its deficits "reduced significantly," Keurulainen told the COP. "Missions and outreach — we're doing it."
He also said that 35 pastors in the district are in learning communities for congregational revitalization.

"It's remarkable what revitalization has done for ministry in New England," he continued. "It's changing the culture for the better for many congregations."
"Stewardship just isn't being preached as much as it needs to be," Keurulainen said. "Stewardship needs to begin in the lives of our pastors as they model it in their congregations."

But through the revitalization process and the Consecrated Stewards program, New England congregations are "experiencing the joyful aspects of stewardship," he added.

And although the economy also has affected congregations in the non-geographic English District, "focusing on the high ground of our motto, 'igniting Christ's church in mission' remains our focus," said Stechholz.
He also said that despite deep cuts to its budget, the district has nine new mission starts.
Stechholz said that the congregations and schools of the English District, "in worshiping the living God, are serving in their communities, connecting with the unchurched and dechurched, growing in grace and numbers by the power of the Holy Spirit, and reproducing by planting new churches."

Stechholz emphasized that the district also continues to promote Consecrated Stewards to enhance congregations' mission and ministry through whole-life stewardship.

Consecrated Stewards — a part of the Lutheran Church Extension Fund's Ministry Services — provides a spiritual setting for raising up stewardship in congregations. It explores the need of the giver to give, rather than the need of the church to receive.

For more information about Consecrated Stewards, call 800-843-5233 or visit www.lcef.org/services/consecrated_stewards.

After discussion when other presidents shared how their districts and congregations are dealing with the economy, Synod President Dr. Gerald B. Kieschnick thanked the COP program committee for proposing the "economy of ministry" topic and those who addressed it.

"I think this is one of the most helpful discussions we've had," Kieschnick said, as he emphasized the importance of district presidents "sharing about what works."

Another Synod process aimed at changing the culture of stewardship is "Faith Aflame: 360 Degrees," which Rev. Wayne Knolhoff, director of Stewardship Ministry with LCMS District and Congregational Services, addressed with the COP at its November meeting.

Described in a brochure Knolhoff distributed as "a process that engages leaders of the congregation in an intentional stewardship focus," Faith Aflame is "about our relationship in Jesus Christ and how He can effect change," he told the COP.

Congregations involved in Faith Aflame go through a three-hour introductory workshop for each of three modules that address six aspects of "whole-life intentional stewardship" — with God's Word, as God's child, as God's family, as God's leader, as God's servant, and in God's world. Congregations in the program commit to a yearlong learning process.

So far, Knolhoff said, Faith Aflame has been implemented by congregations in 15 LCMS districts, toward the goal of involving congregations in all 35 districts.

For more information, contact Knolhoff at 314-996-1720, or visit www.lcms.org/stewardship.

Continuing its in-depth program emphasis of "ecclesiastical leadership in a post-church culture," the COP in November participated in a Bible study focusing on doctrine and mission. Leading that study were California-Nevada-Hawaii District President Dr. Robert Newton and Rocky Mountain District President Rev. Randall Golter.

"The theology of the cross takes highest priority when the church gives of herself … to display God's purpose of working for lost people to become Christians," Golter said.

Newton pointed out that although solid doctrine is indispensible for both the church and its Gospel outreach, doctrine can become an "idolatrous stumbling block" when Christians use it to "intentionally set boundaries and erect walls" that hinder outreach.

"In the post-church era when the unchurched culture often seems to be culturally in charge, the church has remarkable potential," he said. "Are we going to protect our man-made walls or tear them down, as our Lord instructed, in order to reach out in mission with the Gospel?"

The council welcomed members of the supervisory board for the International Lutheran Society of Wittenberg. They reported on work by the Synod, its partner church in Germany, and Concordia Publishing House to establish and strengthen confessional Lutheran presence and outreach in the town where Martin Luther posted his 95 theses in 1517.

"We want the entire Synod to get excited about this project as we approach the 500th anniversary of the Reformation in 2017," ILSW Board Chairman Dr. Samuel Nafzger told the council. Nafzger also is executive director of church relations for the Synod.

Others addressing the council at its November meeting included:
Dr. Glen Thomas, who spoke of work on a "Perceptions of Ministry Inventory." He explained that the project will assist the COP, the Synod seminaries, and the LCMS Board for Pastoral Education (for which Thomas is executive director) in gathering data on perceptions from congregational leaders of ministry activities of their pastors who graduated from one of the LCMS seminaries two years and five years previously.
Jim Sanft, president of Concordia Plan Services, who gave an overview of the Plans' proposed Flexibility of Benefits Project.
Dr. Dean Nadasdy, the Synod's fourth vice president, led the COP in a presentation highlighting leadership styles.
The COP placed six new pastors, 20 vicars, and 29 new commissioned ministers into ministries with LCMS congregations.
District presidents reported that there are currently 346 pastoral vacancies in the Synod — 258 with congregations calling a "sole" pastor, 41 calling senior pastors, and 47 calling associate or assistant pastors. The total number is three more than reported by district presidents two months ago.
The presidents also reported that there are 189 temporary "non-calling" pastoral vacancies and 353 permanent non-calling vacancies — a total of 542 (22 more than they reported in September).
Among action at its November meeting, the COP affirmed guidelines for partner church candidate calls — specifically, for when Synod partner churches are interested in calling LCMS seminary graduates.
On Nov. 19, the Council of Presidents met with the Synod Board of Directors to address "macro-funding" in the LCMS and support for the work of the Blue Ribbon Task Force on Synod Structure and Governance and the Blue Ribbon Task Force on Funding the Mission.
Posted Nov. 25, 2009