Florida-Georgia
June 12-14
Lake Mary, Fla.
Elected:
Rev. Gregory Walton, 47, Marietta, Ga., president, first term, third ba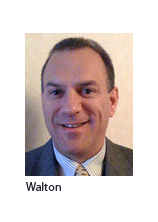 llot.
Rev. C. Scott Gress, Delray Beach, Fla., first vice president.
Rev. David C. Brighton, Warner Robins, Ga., second vice president.
Meeting under the theme "The Love of Christ urges us on," based on 2 Cor. 5:14), delegates voted to:
urge the district board of directors and president to seek to expand involvement of congregations for revitalization through the Transforming Congregations Network and set a goal of 50 percent of Florida-Georgia congregations engaged in a revitalization process by the 2015 convention.
urge Florida-Georgia congregations to consider parish nursing as part of their mission and ministry.
encourage all district congregations to appoint and train a standing stewardship committee; to make a corporate decision to commit a percentage of offering receipts for work of the church-at-large through the district and Synod and submit to the district a pledge of that intention; and to conduct an annual campaign that includes stewardship education and a time of every-member commitments.
encourage the district's lay and professional leaders to creatively engage in human care ministry as Jesus identifies that ministry and the Spirit energizes that ministry.
combine the Miami North and Miami South Circuits into a new Monroe-Miami Dade Circuit.
adopt six bylaw changes proposed by the district board of directors and subject to the approval of the Synod's Commission on Constitutional Matters.
re-affirm support for the Concordia House of Studies (CHS) by encouraging member congregations to provide generous financial and prayer support as well as to encourage students to enroll in its programs; to instruct the CHS board of directors to take the recruitment, marketing, and promotional steps necessary to attain financial viability; to evaluate the effectiveness of CHS as a means to increase the number of professional church workers from Florida-Georgia and to develop leadership within the district so that each congregation rededicates itself to a program of intentional recruitment of professional church workers.
Posted June 19, 2009