Rev. John Sundaram, who was president of the India Evangelical Lutheran Church (IELC) from 1980 to 1985, died Sept. 5 of a heart attack. He was 69.
A funeral servic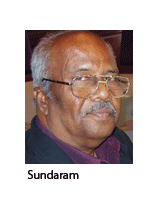 e was held the following day in Ambur, India.
At the time of his death, Rev. Sundaram was coordinator of Lutheran Heritage Foundation (LHF) projects in India. He also served as the IELC's mission director from 1989 until 2004.
The IELC is a partner church with the Missouri Synod.
Under Rev. Sundaram's guidance, five books were translated and published into the Tamil language for LHF: Luther's Small Catechism, the Standard Bible for children, History of the Reformation, The Lutheran Agenda, and most recently a reader's edition of The Book of Concord. He also oversaw translation of the catechism into four other Indian languages.
Although Rev. Sundaram retired in 2004 after 42 years in active ministry, "He was … a beloved pastor to the end of his days on earth," according to a news release from LHF. The release also reported that two people Rev. Sundaram planned to baptize were baptized at the side of his coffin on the day of the funeral.
Survivors include his wife, Kasthuribai, two sons and their wives, a daughter, and four grandchildren.
"We in the LCMS give thanks to God for the many blessings He has given His church through the life and ministry of Rev. Sundaram, and especially for his leadership in our partner church in India," said Synod President Gerald B. Kieschnick.
Rev. James Fandrey, LHF's executive director, said Sundaram was a "dedicated pastor and missionary who was passionate about providing the books of the faith to his people in their languages."
Memorial gifts are being received by LHF. Checks payable to "LHF," with a note indicating "Sundaram memorial" may be sent to the Lutheran Heritage Foundation, 51474 Romeo Plank Road, Macomb, MI 48042. Or, make donations online at www.lhfmissions.org/donate.
Posted Sept. 30, 2009