Dr. Emil G. Jaech, who served as president of the Synod's Northwest District from 1970 until his retirement in 1982, died April 25 at his home in Dallas, Ore. He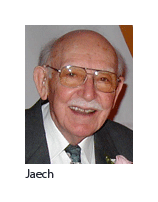 was 95.
A memorial service was held May 2 at Peace Lutheran Church, 1525 Glen Creek NW, in Salem, Ore.
Dr. Jaech was a 1938 graduate of Concordia Theological Seminary, then at Springfield, Ill. He received an honorary doctorate from Pacific Lutheran University, Tacoma, Wash., in 1974.
As a Lutheran leader, Dr. Jaech "communicated the love of God for people in all their needs," said Northwest District President Warren Schumacher. "With strength and grace, Emil had a deep ability to honor people and listen from the heart.
"His spirit and smile offered hospitality to all. He effectively brought people together, whether in times of unity or disagreement, and led efforts for broader Lutheran cooperation in ministry, education, and social service."
Dr. Jaech is survived by his wife, Myrtle, with whom he shared 70 years of marriage; four children — Joanne (Rev. Gary) Borges of Salem, Ore.; Carol (Rev. Clem) Pera of Seattle; Mary-Louise (Rev. Edgar) Brandt of Dallas, Ore.; and Rev. Richard (Satya) Jaech of Vancouver, Wash. — seven grandchildren; and five great-granddaughters.
In lieu of flowers, memorial gifts may be made to Peace Lutheran Church, Salem, or Trinity Lutheran School, 5520 NE Killingsworth, Portland, OR 97218.
Posted April 29, 2009