Dr. Thomas R. Zehnder, who has been serving as interim executive director of the Synod's Board for Mission Services since November, has accepted a call from the board to continue his service as executive director.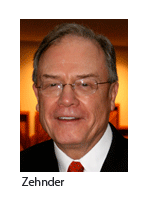 The action of the board, taken April 15, removes the "interim" title from Zehnder's position and serves as an endorsement of his continuing leadership of LCMS World Mission.
"It is with great joy that the staff of LCMS World Mission received the news that Tom Zehnder has accepted the call to continue his service as executive director," said Kurt Buchholz, the mission board's associate executive director for planning and administration. "We covet the passion, vision, and integrity Tom brings to this position, especially in this time of unprecedented mission opportunities mixed with challenging economic times."
LCMS President Gerald B. Kieschnick said Zehnder's "wealth of experience as an overseas missionary, parish pastor, and district president qualifies him uniquely for this important position of service among us."
Zehnder, 72, of Baileys Harbor, Wis., succeeds Dr. Robert Roegner, who resigned Nov. 16, citing his desire to return to "a more hands-on ministry." Roegner, 55, had served as executive director since November 2001. He recently accepted a call to serve as a mission developer for the English District in the Riverview area of North St. Louis County, Mo.
A 1961 graduate of Concordia Seminary, St. Louis, Zehnder and his wife, Jacquelyn, served as missionaries in Japan for nearly a decade. From 1987 to 1997, Zehnder was president of the Synod's Florida-Georgia District. He also has served as pastor of congregations in Columbus, Ga.; Stuart, Fla.; and Williamsburg, Va.
Updated April 24, 2009