The Lutheran Women's Missionary League has exceeded its 2007-09 mission goal of $1.7 million by $75,730.17, according to President Janice Wendorf.
"In the midst of these uncertain times, God's people have respo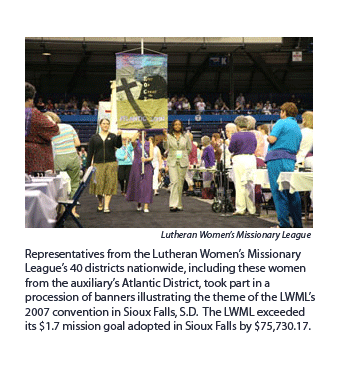 nded and supported the mission goal of the LWML for the 2007-09 biennium," Wendorf said. "Thanks to all the districts and individuals who have sent special offerings and gifts."
Among contributions received by the March 31 deadline was an anonymous "memorial" gift of $100,000.
Funds for the mission goal come from the LWML's 40 districts, which receive "mite box" and other contributions from members, and pass along one-fourth of those monies to the national LWML for distribution to mission projects worldwide.
The most recent LWML convention, in 2007 in Sioux Falls, S.D., chose 18 mission projects — from supporting an inner-city children's ministry in Minneapolis/St. Paul, to building 10 churches in India.
LWML districts use 75 percent of what they receive for local mission-related projects. Although final reports are not yet available, the auxiliary's 250,000 members nationwide have likely raised a total of more than $6.5 million during the 2007-09 biennium, according to the LWML office in St. Louis.
The next LWML convention, June 25-28 in Portland, Ore., will adopt a new mission goal for the 2009-11 biennium and choose new projects to receive funding.
For more information about the LWML or its upcoming convention, visit the organization's Web site at www.lwml.org or call 800-252-5965.
Posted April 15, 2009