Ralston H. Deffenbaugh Jr., president of Lutheran Immigration and Refugee Service (LIRS) since 1991, will resign from his post Sept. 1. According t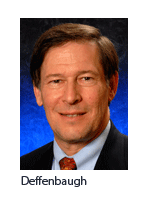 o an LIRS news release, Deffenbaugh, 57, said the "organization needs new gifts of leadership."
"As LIRS president I have always understood myself as standing on the able, solid shoulders of all those who have gone before me," Deffenbaugh said. "I believe that my gifts have been well used in my tenure at LIRS, that the agency has grown to a degree that no one could have imagined 18 years ago, and that it is now time for a new kind of imagination to light the way. I've long been influenced by the adage that our calling is the intersection between our joy and the world's need. For me and for LIRS, that intersection has shifted."
During his tenure, LIRS and its partners have resettled more than 100,000 refugees, many from Africa (including the "Lost Boys" from Sudan), Burma, and Bhutan. The organization has revived the international system of resettlement and care for unaccompanied refugee children through collaboration with the United Nations High Commissioner for Refugees.
Deffenbaugh helped form the Refugee Council USA, which focuses on refugee protection, and served as its first chairperson from 2000 to 2001. He is the longest-serving head of LIRS since its founding in 1939.
"It is with a profound mixture of sadness and joy that I express my deepest appreciation to Ralie Deffenbaugh for his fine and faithful service as president of Lutheran Immigration and Refugee Service," said LCMS President Gerald B. Kieschnick. "The sadness stems from no longer being able to observe firsthand his obvious and unending love for immigrant people, many of whom seek the basic necessities of life and freedoms available in the United States. The joy comes from recalling Ralie's contributions to many, many refugee people who now live lives of safety, security, and freedom in this wonderful country."
LIRS Board Chairperson Elaine Richter Bryant said, "Ralie's visionary leadership has been the catalyst for the consistent 18-year growth and expansion of Lutheran services to immigrants and refugees. Ralie has surrounded himself with excellent staff, gaining national recognition for LIRS as the 'moral compass' in this decades-long struggle for immigration reform."
Deffenbaugh said his plans for the future are still taking shape, but he remains committed to the mission of LIRS and will continue to support it.
"I look forward to seeing how LIRS will continue to bring new hope and new life in ever more creative and indispensable ways," he said. "LIRS will remain a constant support for uprooted people and for the communities that welcome them."
Through its partnership with LCMS World Relief and Human Care, LIRS is a cooperative agency of The Lutheran Church–Missouri Synod, the Evangelical Lutheran Church in America, and the Latvian Evangelical Lutheran Church in America. For more information, visit its Web site at www.lirs.org.
Posted April 22, 2009