By Joe Isenhower Jr.

The senior pastor of St. Peter Lutheran Church, Schaumburg, Ill., says that strong faith and fellow members are providing hope and support for the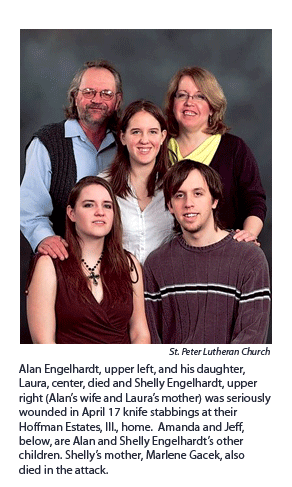 Engelhardt family of nearby Hoffman Estates after three of that family's members died from knife wounds inflicted early Easter Friday, April 17.

Schaumburg and Hoffman Estates are neighboring communities in west suburban Chicago.

Alan Engelhardt, 57, and his daughter, Laura, 18 — both active members of St. Peter, and Marlene Gacek, 73 — Alan's mother-in-law and Laura's maternal grandmother, died after D'Andre Howard, 20, allegedly stabbed them with a butcher knife in the early hours of that morning. Shelly Engelhardt, 53, Alan's wife and Laura's mother, also was seriously wounded in the stabbings. Shelly also is active at St. Peter.

The incidents started with an argument between Howard and his girlfriend, Amanda Engelhardt, 23, the oldest of Alan and Shelly's three children. The argument reportedly began in their apartment, after which Amanda fled with their infant daughter, Stella, to her parents' home nearby.

Howard then followed Amanda to the Engelhardt home, where he allegedly held her and two other family members hostage, in addition to stabbing the members of the family.

Media accounts of the events at the Engelhardt home revealed that when Amanda tried to call "911," Howard ripped phone jacks from the wall. He was in the house as police arrived several hours later, after he allowed Amanda to call them from a cell phone.

Alan Engelhardt and Gacek were pronounced dead on the scene. Laura died at noon Friday in an area hospital. And Shelly was taken to a local hospital in critical condition.

Howard was later charged with several counts of first-degree murder, attempted murder, and unlawful restraint. A ward of the state, he reportedly has "mental issues" and a past that includes at least two other scrapes with the law.
Laura had grabbed the butcher knife from Howard and cut him as she tired to protect her family, before he retrieved the knife and began stabbing her.
Alan's mother, who is 85, as well as a disabled sister of Shelly also live in the Engelhardt home, which the Engelhardts had moved into several years ago after Marlene Gacek's husband died.
The Engelhardt's son, Jeff, 20, was away at school at the time of the stabbings. A senior at Southern Illinois University, Carbondale, he is managing editor of the campus's Daily Egyptian newspaper.
Rev. David Hudak, senior pastor at St. Peter Lutheran Church, spoke to Reporter about visiting Shelly Engelhardt in the hospital. He said that a week after the attacks, she remained in intensive care, while showing signs of recovery.
Hudak indicated that Shelly "has a strong faith and is trusting in the Lord for help in the days ahead." He added that she told him "she loves her family and that family is very important to her, but that she also has a wonderful family here at St. Peter. She is overwhelmed by the number of people praying for her and her family. This is a very difficult time, but God is faithful, and she is relying on Him."
Describing Alan and Shelly as "regular church attenders" who last worshiped together at St. Peter on Good Friday and Easter Sunday, Hudak said that both had been active in the congregation's school, from which all three Engelhardt children graduated. The children also were confirmed at St. Peter.
Hudak said that Jeff Engelhardt, a drummer in the church praise band during high school, "has a tremendously strong faith and appears to be the mainstay for the family right now."
Jeff attended one of St. Peter's five weekend worship services when he returned home after his three family members died.
Hudak said that a funeral service for Alan and Laura Engelhardt was set for April 30 at St. Peter. He added that a service for Marlene Gacek, who was Roman Catholic, "will be held on Friday [May 1], we believe."
During an April 20 telephone interview with Paul Clayton of the Synod's KFUO-AM radio station, Hudak said that he and Rev. William Cate, St. Peter's associate pastor, emphasized in their sermons the weekend after the three family members were killed "that we are still celebrating Easter, [which brings] hope. We know that we have the risen Christ and [the] empty tomb; and even now in the midst of this tragedy and difficulty, that still applies to us. It's a certain hope that we will see our loved ones again."
He said that attendance at St. Peter's services the weekend after Easter Sunday was unusually high. The congregation of some 3,000 baptized members counted some 850 worshipers over that weekend — about 50 more than usual for the week after Easter, which some refer to as "low Sunday."
"Many of our members have come forward asking to help the Engelhardts," Hudak said. "Obviously, prayer is needed."
He added that one member who owns a salon has even offered cost-free haircuts and styling for the Engelhard family and all of St. Peter's staff "as a way to show her love and concern for them."
Hudak said that starting with the day of the tragic slayings, "many of our high school students are gathering at the church in the evenings and singing Christian songs together" and that many members have volunteered to serve a meal following the funeral service.
He said that "numerous calls" have come from other pastors, congregations, and crisis counselors, asking what they can do to help.
Lutheran Church Charities, based in Chicago, sent representatives with several "comfort dogs" to be on hand for worshipers at St. Peter's Saturday service April 18.
Teachers at St. Peter's school "are showing comfort to their students as needed," Hudak told Reporter. "We have a very strong faculty of faithful teachers who share their faith with the students each day. Many of them had all three Engelhardt children in their classes."
Among those teachers is Sandy Jungkuntz, director of St. Peter's New Creations high-school-age singing group which included Laura Engelhardt. Hudak said that Jungkuntz "has a heart for these students and has helped them to work through some of their feelings about what has happened."
Both Alan and Shelly Engelhardt had lost their jobs within the past several years.
The congregation has established a special fund for the Engelhardt family through a local bank. Donations may be sent to St. Peter Lutheran Church, 202 E. Schaumburg Road,