Ben and Jennifer Freudenburg of Ann Arbor, Mich., have received an award named in their honor by the Association of Marriage and Family Ministries (AMFM).
The couple were the first recipients of the "Ben and Jennifer Freudenburg Pion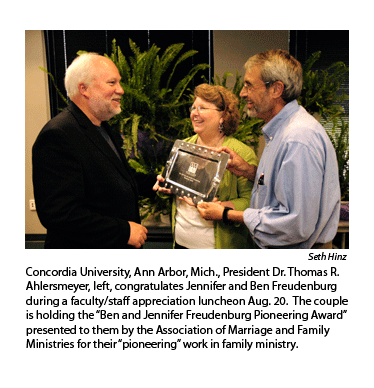 eering Award" presented by the AMFM at its 2009 Marriage and Family Ministry Training Conference, Aug. 3-7 in Phoenix. The award, which will be presented annually, recognizes the couple's "pioneering" work in family ministry worldwide.
In a statement, the AMFM says, "The award was begun in their names, as Ben and Jennifer have been persistent in the church at-large in pioneering for family ministry. As the American pioneers moving westward in our country had courage and persistence, so the Freudenburgs have done this in family ministry throughout the world."
Eric Garcia, AMFM co-founder and president, called Ben Freudenburg "one of the leading voices" in family ministry "before it was popularized" and an "unbelievable servant of God."
"He has such a heart to serve — individual families, couples, churches, denominations, even churches outside of his own denomination," Garcia told Reporter. "This guy is incredible."
Ben Freudenburg is director of family life at Concordia University, Ann Arbor, and Jennifer serves as executive administrative assistant at the school.
The Scottsdale, Ariz.-based AMFM, with some 2,000 members worldwide, works to encourage, train, and equip churches to build effective and relevant marriage and family ministries.
Posted Aug. 26, 2009