By Kim Plummer Krull
The Synod's mercy arm is working with ministry partners to reach out to suffering Asians after what may have been an unprecedented string of deadly disasters.
Although the typhoons, earthquake, and record floods have largely faded fr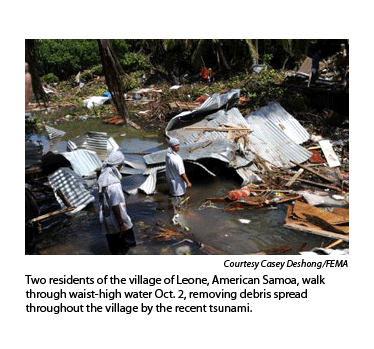 om U.S. headlines, assistance remains urgently needed to help people who have lost loved ones, homes, and livelihoods, says Darin Storkson, LCMS World Relief and Human Care's regional director in Asia.
"Disasters happen all the time here, but this may very well be the most we've seen in such a short amount of time," said Storkson, who has been based in Jakarta, Indonesia, since 2005.
"We have staff on the ground and Lutheran partners to work with, but we need funds to respond to such a great number of disasters and people in need," he said.
In Indonesia, WR-HC is working with the Protestant Christian Batak Church (HKBP) to assess needs and provide relief after a 7.6 magnitude earthquake struck West Sumatra on Sept. 30, killing more than 1,000. Many people remain missing. The HKBP church body and WR-HC have worked in partnership since the 2004 tsunami devastated parts of Southeast Asia.
WR-HC sent deployed staff to the hard-hit Indonesian city of Padang, where hundreds of thousands of homes have "vanished," according to the assessment report that also tells of many orphaned children and homeless families. "Thousands [of] people recently stay in the tents or shelter and [are] waiting [for] food to survive," the report said.
WR-HC is working with HKPB church leaders to provide emergency relief, including food, medicine, tents, and temporary accommodations in refugee camps.
In southern India, early October monsoons triggered flooding described as "the worst in 100 years." More than 1.5 million people are impacted and 62,000 homes were destroyed, according to Ravi Jesupatham, India country coordinator with WR-HC. Jesupatham traveled to Andhra Pradesh to report on needs on behalf of WR-HC and the India Evangelical Lutheran Church (IELC), an LCMS partner church.
WR-HC and the IELC are focusing relief efforts on villages and slums that have an IELC presence and have been largely neglected by the Indian government and other relief agencies. One such area is the slum near the city of Vijayawada, where the local IELC church and the homes of the pastor and some 25 IELC families were destroyed.
Plans are in the works for WR-HC and the IELC to provide emergency kits for some 1,000 families, supplying rice, other provisions, cooking equipment, and blankets.
Jesupatham calls the Indians' plight "appalling and heartbreaking." "All their belongings and households are washed out. Their earning potential is down, and they have to start from scratch," he said in a written report to WR-HC. "There is great opportunity to show the love and mercy of our Lord in these places."
The series of Asian disasters began in early August when Typhoon Morakot killed hundreds in Taiwan and the Philippines. Subsequent typhoons in September and October wrought even more death and destruction in the Philippines, including in the capital city of Manila, the headquarters of the Lutheran Church in the Philippines.
Plans are in the works for WR-HC to provide funds to help that LCMS partner church reach out in a country where hundreds of thousands of people lost their homes in what has been called the islands' worst flooding in some 40 years.
Working from his base in the U.S., WR-HC Director of Disaster Response Rev. Glenn Merritt helped the mercy arm respond to a disaster beyond Asia in American Samoa. A powerful Sept. 29 tsunami killed some 170 people and left many more homeless in that U.S. territory and in Samoa in the South Pacific.
WR-HC, with the help of ministry partners, provided funds to buy emergency supplies for tsunami survivors in several villages. Food, medicine, tools, and blankets were distributed by Rev. Steve Lee, pastor at Zion Lutheran Church, Nampa, Idaho, and executive director of Peace Officer Ministries (an LCMS mission society), and Rev. Frank Ruffatto, pastor at Point of Grace Lutheran Church, Cornelius, N.C.
Lee tells how the tsunami washed people in the coastal village of Fa'ilolo into the ocean, but a subsequent wave washed them back to shore, "and, miraculously, no one was killed." Those villagers evacuated to a higher plateau, Lee said, and "had no supplies until we responded with supplies, including those funded by WR-HC."
Several congregations, including those in Hawaii, California, and Idaho, worked with Merritt to provide emergency funds to help the tsunami survivors. Rev. Bruce Betker, California-Nevada-Hawaii District regional vice president in Kaneohe, Hawaii, also lent a hand.
"Given the combined devastation from these four major events, there is an urgent need for funds to assist survivors as quickly as possible," Merritt said, referring to the tsunami, typhoons, earthquake, and floods. "Please consider helping with a generous gift at this time."
Adds Storkson: "Of course, we know that Americans are facing their own economic challenges, and that makes us even more grateful for any sacrifices they can make to help us to reach out to suffering people in other countries."
To help WR-HC provide mercy through relief to hurting Asians:
Make a credit card gift online at http://givenowlcms.org, click on "LCMS World Relief and Human Care Disaster Response," then click on "Southeast Asia Storm and Earthquake Relief."
Make a credit card gift by phone at 888-930-4438.
Send a check to: LCMS World Relief and Human Care, P.O. Box 66861, St. Louis, MO 63166-6861. (Make checks payable to LCMS World Relief and Human Care; note "Southeast Asia Storm and Earthquake Relief" on the memo line.)
Kim Plummer Krull is a freelance writer and a member of St. Paul's Lutheran Church, Des Peres, Mo.
Updated Oct. 28, 2009