The Independent Evangelical Lutheran Church, an LCMS partner church known by its German acronym, SELK, is offering a weeklong camp to Lutheran teens and young adults next summer in Wittenberg, Germany.
"LutherCamp," set for July 30-Aug. 8 in a campground on the Elbe River, is offering young people ages 16 to 29 "from all over the world the opportunit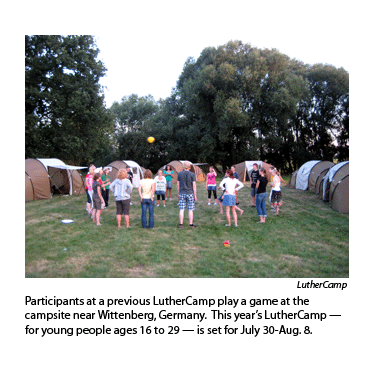 y to get to know the historical roots of the Lutheran faith, and to grow in their personal faith," according to a flier for the annual event.
"We would like to bring young folks from different countries together to discuss how to live as a Lutheran in the 21st century, and how to spread the Good News of the Gospel."
LutherCamp 2010 includes:
a video presentation, "Luther for Today," which explores how the teachings of Martin Luther are relevant for today's young people.
opportunities to take part in outreach projects in Wittenberg: serving a vacation Bible school, painting and doing other chores at a school, and helping "people in need" with shopping, cleaning, and other tasks.
tours to local Luther sites, including museums; Luther's home; the City Church, where Luther preached; the Castle Church, where he posted his 95 theses; and the house of Luther's co-worker, Philipp Melanchthon.
canoeing, swimming, and biking.
a night tour of Wittenberg.
Bible studies and worship.
Cost for the week is 189 euros (about $285 at today's exchange rate), which includes accommodations in tents, meals, and entrance and excursion fees. A daily fee of 25 euros (about $38) also is available for those who wish to attend for a few days.
Deadline for registrations is May 1. After that date, full registration will be 220 euros, and the one-day rate, 30 euros. The camp is limited to 30 English-speaking participants, so early registration is advised.
For more information or to register, send an e-mail to Rev. Hinrich Muller at cottbus@selk.de or call him in Germany at 011-49-355-24542. Or, visit the Web site www.freizeitfieber.de (click on the LutherCamp logo, then "Flyer.pdf" for English information).
Posted Dec. 16, 2009