Dr. Donald B. Gourlay, mission facilitator for the Synod's Northern Illinois District, is one of four Lutherans to be recognized by Wheat Ridge Ministries at its 11th Annual Seeds of Hope A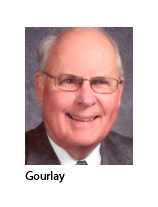 ward Dinner, Feb. 6 in Arlington Heights, Ill.
Gourlay, the only honoree who is an LCMS Lutheran, will receive Wheat Ridge's 2010 Seeds of Hope Award, which "recognizes individuals for their exemplary dedication and commitment to serving in ministries of health, hope, and healing," according to the organization.
Gourlay served as pastor of St. Paul Lutheran Church, in the Austin area of Chicago, from 1974 to 1999, when the congregation's membership changed from primarily white to African-American. During that time, Gourlay served on various committees and boards related to urban concerns, including Lutheran Congregations for Career Development, a consortium of local LCMS and Evangelical Lutheran Church in America congregations that helped city youth get jobs.
From 1971 to 1974, he was director of "The Chicago Project," an effort of the Northern Illinois District and the Lutheran Human Relations Association of America that assisted churches facing changing demographics and promoted understanding on racial and social-justice issues. He also has served the district as chair of its Board for Social Ministry and as a member of its Board of Directors.
Others to receive the Seeds of Hope Award are Ruth A. Reko, director of the Department of Social Ministry Organizations for the Evangelical Lutheran Church in America, and Greg Wangerin, executive director of Interfaith Refugee and Immigration Ministries, Chicago. Also being recognized is Leslie Hunter, a youth director and assistant pastor at Holy Family Lutheran Church, Chicago, who will receive the "Seeds of Hope Emerging Leader Award."
Posted Dec. 16, 2009