"Look Toward the Heavens: The Art of He Qi," an exhibit of sacred art by renowned Chinese artist He Qi, is on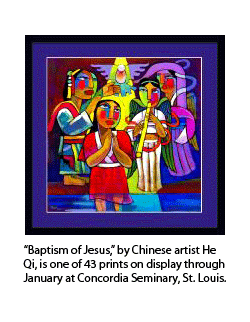 display at Concordia Seminary, St. Louis — in the gallery of the Concordia Historical Institute — now through January.
As part of the exhibit, which includes 43 artist proof giclée prints, He Qi will visit the seminary campus Oct. 22-23.
One of China's most celebrated contemporary artists, He Qi blends together Chinese folk customs and painting techniques with the western art of the Middle Ages and modernism, creating original color-on-paper paintings.
"A generation ago, Concordia Seminary discovered the pre-eminent Asian sacred art of Sadao Watanabe," said Rev. Tra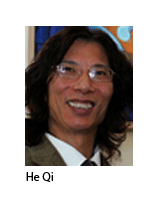 vis Scholl, managing editor of theological publications for the seminary. "Now, with He Qi, we welcome to St. Louis arguably the most distinguished Asian sacred artist working today."
He Qi's work has included exhibitions in Kyoto, Hong Kong, Geneva, London, Minneapolis, and San Francisco, as well as the campuses of Yale and Princeton.
To view his work online, visit www.heqigallery.com. For more information, call the Concordia Historical Institute at 314-505-7900.
Posted Oct. 21, 2009