North Wisconsin
June 14-16
Green Bay, Wis.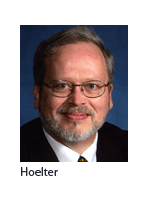 Elected:
Rev. Joel Hoelter, Wausau, Wis., president, second term, first ballot.
Rev. Paul Weber, Marquette, Mich., first vice president.
Rev. William Plautz, Chippewa Falls, Wis., second vice president.
Dr. Timothy Wenger, Wisconsin Rapids, Wis., third vice president.
Under the theme "Rejoice! Renew! Reach Out!," delegates voted to:
reaffirm the sacrament of Holy Baptism.
amend the district's handbook with the changes approved by the district's board of directors as recommended by the Synod's Commission on Constitutional Matters.
uphold the teaching of creationism, especially in 2009 when attention has been focused on the 150th anniversary of Darwin's theory of evolution.
encourage district congregations to show the documentary "Expelled: No Intelligence Allowed" — which studies the scientific debate between evolution and intelligent design — to their members and in their communities.
Posted June 24, 2009