Dr. J.A.O. ("Jack") Preus III plans to step down as president of Concordia University, Irvine, Calif., in September to become executive vice preside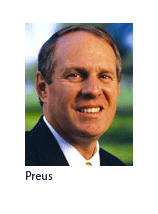 nt of mission advancement at Bethesda Lutheran Homes and Services in Watertown, Wis.
In a June 30 letter to Concordia University System and LCMS seminary presidents, Preus said his new post "was created to help the organization remain focused on its mission" and that he would be "the successor to the president/CEO when he retires."
"Bethesda has a beautiful mission and it is a great organization that has a big vision for growth and expansion," Preus wrote. "And, I'm drawn to the prospect of applying what I have learned through 25 years of service in Lutheran higher education to what, for me, will be a new vocation, but which I have always had a heart for: providing mercy to those in need."
Preus said he will leave his current position "with a heavy heart," calling his 11 years at Concordia, Irvine, "the best of all the years of my ministry."
"It has been an indescribable privilege to work with such wonderful people: dedicated and wise Board of Regents, consecrated and professional faculty and staff, bright and positive students," he said. "I love Concordia and have cherished every moment that God has blessed me to be president of it."
The school will be putting in place a process for the search for a presidential successor over the next few months. It is expected that the new president will take office prior to the beginning of the 2010 academic year.
Posted July 23, 2009