The June/July Lutheran Witness, mailed May 29, is the magazine's annual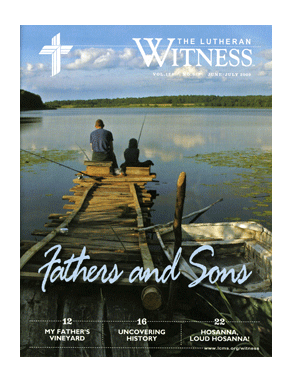 combined issue. It is also a "family" issue this year.
The cover story by Dr. John W. Oberdeck, assistant director for lay ministry and professor of theology at Concordia University Wisconsin, focuses on fathers and sons.
A second story by Gretchen Roberts highlights a strong sense of family and vocation in the vineyards of California, while with the help of Concordia Historical Institute, Kim Plummer Krull, in a third story, uncovers a bit of high drama and "family" history from our Synod's early years.
Finally, Rebekah Curtis, a mother of four, offers suggestions for helping families with children attend worship.
The Lutheran Witness returns to its monthly schedule with the August issue, due to be mailed July 31.
Posted June 3, 2009