James R. Krone of Livonia, Mich., began serving Oct. 1 as president and chief executive officer of Lutheran Special Education Ministries (LSEM), an LCMS Recognized Service Organization based in Detroit.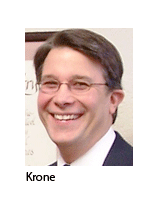 In that position, he succeeds Dr. Roger DeMeyere, who will retire in March.

LSEM works with Lutheran and other Christian school principals in developing and maintaining special education programs, and provides educational material and consulting services to help children with special learning needs in confirmation classes, Sunday schools, and vacation Bible schools. It serves Christian education ministries throughout the country — including schools in seven LCMS districts.

Founded in 1873 as Lutheran School for the Deaf, the organization's name changed to Lutheran Special Education Ministries in 1990.

Krone has been with LSEM for 23 years, and was its vice president of Programs and Services before assuming duties as president and CEO.
"During his tenure, he has been instrumental in helping to transform the ministry from a regional focus to a national focus," according to an LSEM news release. "With his team of directors, coordinators, and teachers, [he] continues to focus on developing and implementing new special education services that will serve even more children with special learning needs now and in the future."
Krone, 51, is a 1981 graduate of Concordia College (now Concordia University Chicago), River Forest, Ill., and earned the Master of Science in Education/Special Education degree from Northern Illinois University in 1989. He began his career in special education in 1986.

He is currently chairman of the Synod's Disability Task Force.

Krone and his wife, Suzette, are members of Christ Our Savior Lutheran Church, Livonia. They have two adult children.
Posted Nov. 4, 2009