Relationships with partner churches, fiscal realities, theological and ecclesiastical issues, and seminary education were among topics discussed by representatives of Lutheran Church–Canada (LCC) and the LCMS during a Nov. 10 meeting in St. Louis.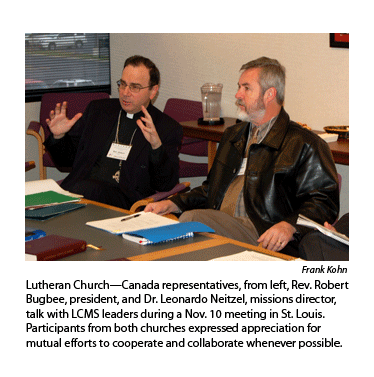 The gathering was "a good meeting," according to Dr. Samuel Nafzger, LCMS director of church relations and assistant to the president. He said the leaders agreed to meet at least annually. The next meeting will be Sept. 14-15, 2010.
The discussion included work in Nicaragua, Guatemala, Cambodia, and Ukraine. LCMS representatives described steps to provide order among varied efforts to assist Lutherans in Haiti and they also reviewed recent operating agreements with the American Association of Lutheran Churches (AALC). In the light of mutual partner church relations, the participants also discussed guidelines for partner church calls to seminary candidates that were developed by the LCMS President's Church Relations Cabinet.
Both church bodies expressed appreciation for ongoing mutual efforts to cooperate and collaborate whenever possible, Nafzger said.
Lengthy discussion involved response to the recent actions on human sexuality issues taken by the Evangelical Lutheran Church in America and the role of confessional Lutherans in today's world.
In addition to Nafzger, LCMS representatives included Dr. Gerald B. Kieschnick, president; Dr. William Diekelman, first vice president; Dr. Raymond Hartwig, secretary; Dr. Joel Lehenbauer, executive director, Commission on Theology and Church Relations; and Ronald Schultz, chief administrative officer. Representing the LCC were Rev. Robert Bugbee, president; Dr. Ian Adnams, director of communications; and Dr. Leonardo Neitzel, missions director.
Posted Dec. 2, 2009