"Educators and parents looking for an effective way to instill in children a commitment to manage God's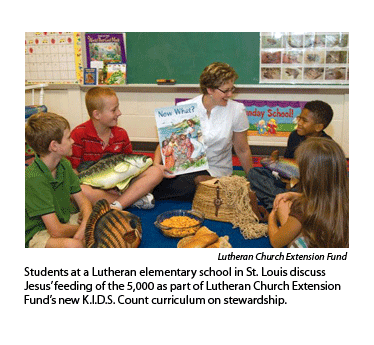 gifts of time, talent, and treasure" may want to learn about a new stewardship curriculum produced by Lutheran Church Extension Fund (LCEF), according to Robyn Linke, LCEF public relations manager.
Titled "K.I.D.S. Count," the program was authored by curriculum writers at Concordia Publishing House in partnership with LCEF and is designed for students in kindergarten through eighth grade for use in Sunday schools, mid-week programs, Lutheran grade schools, or at home. The lessons, which can be taught in less than an hour, may be incorporated into math, social studies, or health studies, as various aspects of resource management are discussed.
Each grade-level curriculum has age-appropriate lessons that include worship, Bible study, skits with puppets, multi-sensory activities, and take-home resources to teach and reinforce Bible-based stewardship.
The themes for the grade levels are:
Kindergarten: Jesus Helps People Give to God.
Grade 1: Jesus Blesses Us so that We Can Be a Blessing.
Grade 2: Jesus Invites Us to Follow Him with All that We Are and Have.
Grade 3: Jesus Helps Us to Share His Love in a Spirit of Gratitude.
Grade 4: Jesus Helps Us Trust Him in the Sharing Opportunities He Provides.
Grade 5: Jesus Equips Us as Managers of His Blessings.
Grade 6: Jesus, Our Savior, Helps Us Dedicate Our Whole Self to Him.
Grade 7: Jesus Calls Us to Love and Serve God and Others.
Grade 8: Jesus Teaches Us Total Stewardship from God's Word.
The curriculum may be used to complement LCEF's K.I.D.S. Stamp Program, which gives students the opportunity to explore ways to learn about managing money and earning interest through their purchases of 25-cent and $1 stamps. These stamps are pasted in a child's special book and when filled, the book is sent to LCEF, which uses the funds to provide low-cost loans to build churches and schools. The children earn interest on their money and know they are helping others at the same time.
Linke said that "LCEF wants to help Lutheran schools and congregations welcome creative approaches to nurture children to become active stewards, to plant the seeds for lifelong stewardship. With LCEF's already successful stewardship-emphasis program, Consecrated Stewards, and now K.I.D.S. Count, we want to help more LCMS members become even stronger in their stewardship life."
Accompanying the written curriculum is a K.I.D.S. Count Web site, www.lcefkids.org, where educators can learn about the new product and view the coordinators guide and an overview brochure describing the lessons.
Linke said the Web site will be updated with teaching tips and "webinars" including "best practices" for using the curriculum and information on setting up the K.I.D.S. Stamp Program in churches and schools.

LCEF is promoting the new curriculum at district teacher and professional worker conferences this fall. Promotion efforts will continue throughout the year with direct mailings and e-mails to pastors and principals.
"K.I.D.S. Count is a great resource to help children learn the life-long benefits of stewardship education," wrote Interim Executive Director William Cochran, Board for District and Congregational Services (DCS), on the curriculum's Web site.
LCMS Stewardship Ministries Director Wayne Knolhoff wrote, "Christian stewardship is about all of life. K.I.D.S. Count provides a very helpful resource for children to grow as stewards in managing all that God has entrusted them."
LCEF is offering an introductory price of $49.99 (regular price $69.99) for orders placed before Dec. 1 for the curriculum, which includes lesson plans for all grade levels along with a coordinators guide that features introductory letters for pastors and teachers, chapel talks, and grade-specific posters. To order, call 800-843-5233 or visit the Web site, www.lcefkids.org.
Posted Nov. 4, 2009