The same week Americans gathered at Thanksgiving dinner tables across the country, LCMS World Relief and Human Care (WR-HC) continued distributing emergency food supplies to families in Andhra Pradesh, India, still reeli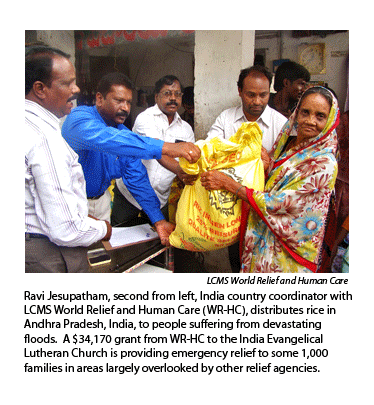 ng from devastating floods.
Some 1,000 families are receiving rice and other provisions in distributions made possible by a $34,170 grant from WR-HC to the India Evangelical Lutheran Church (IELC). Ravi Jesupatham, India country coordinator with WR-HC, is overseeing plans to distribute emergency relief kits the weeks of Nov. 23 and 30 in hard-hit villages largely overlooked by other relief agencies.
In late October, 200 families also received rice and other provisions in the first relief distribution by the IELC, an LCMS partner church.
The grant to the IELC is one of four recent WR-HC international emergency grants totaling $102,770 to ministry partners to help people suffering in the wake of floods, an earthquake, and violence that forced African families to flee their homes.
The other three grants are to:
the Lutheran Church in the Philippines (LCP), to help farm families who lost crops — and their livelihoods — in floods caused by recent typhoons. "Crops in the northern provinces have been submerged in water and ruined," LCP President Rev. James D. Cerdeñola wrote in an e-mail message to Darin Storkson, WR-HC regional director in Asia. "Local impoverished farmers will not be able to harvest their crops this season."

The $33,600 grant will provide seeds, fertilizers, and pesticides to 280 families, including LCP members in the villages of Isabella, Cagayan, Calinga, and Apayo. "This relief will prevent these families from falling into debt and despair," Cerdeñola wrote.

the Diakonia Department of the Protestant Christian Batak Church (HKBP), to help people whose lives have been turned upside down since the Sept. 30 earthquake that killed more than 1,000 people and caused widespread destruction in West Sumatra. The $30,000 grant will provide food, medicine, tents, and other necessities for people living in refugee camps.

Plans also are in the works for HKBP church leaders to help earthquake survivors through a housing and economic rehabilitation program. The HKBP church body and WR-HC have worked in partnership since the 2004 tsunami.

The Evangelical Lutheran Church of the Congo to help displaced families in the eastern Democratic Republic of the Congo (DRC). The $5,000 grant will provide food for people in this central African country who fled their homes to escape violence in the ongoing conflict between the government military and rebels of the Democratic Forces for the Liberation of Rwanda and its local allies.

Church leaders will use the money to set up food distribution sites in Uvira and Bukavu, two cities where refugees from rural areas are living in "inhuman conditions, lacking adequate shelter, food, medical care, or school fees for their children," according to Rev. Claude Houge, mission field representative with LCMS World Mission, who assisted Bishop Victor Bwanagela Kambuli with the WR-HC grant request.
Rev. Glenn F. Merritt, WR-HC director of disaster response, thanked caring Christians for their gifts that enable these grants to share Christ's mercy with people suffering from both natural and man-made disasters.
"A touch of mercy can only be extended worldwide when the people of God unite as one to move forward with compassion, knowing that the power of Jesus Christ reaches beyond ourselves and our borders when we join our hearts and our hands with our brothers and sisters in Christ around the world," Merritt said.
To make a gift to help WR-HC with other disaster relief efforts to reach out to hurting people:
Make a credit care gift online at www.lcms.org/?16075.
Make a credit card gift by phone at 888-930-4438.
Send a check to: LCMS World Relief and Human Care, P.O. Box 66861, St. Louis, MO 63166-6861. (Make checks payable to LCMS World Relief and Human Care, and note "Disaster Relief" on the memo line.)
Posted Dec. 2, 2009